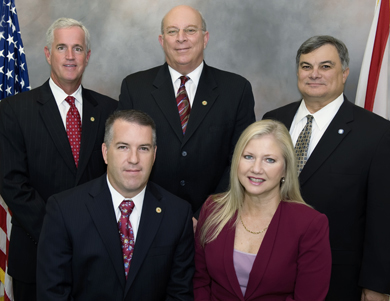 Despite mounting lawsuits against the community, a divided Wellington Village Council voted Tuesday to oust longtime Village Attorney Jeff Kurtz.
In a move that Vice Mayor Howard Coates decried as "outright reckless," council members voted 3-2 to direct staff to give a 30-day notice of termination of the contract with Glen J. Torcivia & Associates, Kurtz's law firm.
"It's outright reckless to give 30-day notice to our village attorney in the midst of one of the more litigious eras in this village," said Coates, who dissented on the vote along with Councilwoman Anne Gerwig.
Earlier this year, council members approved plans to hire a consulting firm and explore the option of bringing a village attorney in-house.
Councilman Matt Willhite asked, however, that the matter be put on the agenda. "We have discussed our legal service options in the past," he said. "I think it has come to the point where good parties can decide that not everything is working out. In my opinion, I don't think everything has been working out between the village and [Kurtz]."
He recommended that the council notify Kurtz's law firm that Wellington is enacting its 30-day termination clause. "Then, at our Nov. 27 meeting, we can discuss what our plans are for hiring an interim attorney," Willhite said.
But Gerwig said she was concerned in light of the many lawsuits Wellington is facing.
"There is a lot of liability here," she said. "If you want to pick another law firm, then continue with that plan, but don't put us in danger of being without legal counsel."
Coates, an attorney himself, agreed, noting that he was not opposed to putting out a request for proposals to see what other options Wellington had.
"But to exercise the 30-day termination notice is to leave this village without an attorney in place," he said. "Even in hiring an interim attorney, it would be unrealistic to assume that the firm would get up to speed. To have an existing attorney fired without a Plan B in effect is reckless. It puts us in a vulnerable position with regard to litigation matters."
Mayor Bob Margolis said Wellington already planned to bring in more attorneys to help with litigation. "[Kurtz] can't handle all the litigation," he said. "So it would have to be outside attorneys brought in."
Councilman John Greene asked about the transition process, which Village Manager Paul Schofield said would be complicated. "There is no clean break," Schofield said. "It's not going to be that today we have one attorney and tomorrow we have another. There are a significant number of things that will require a transition period."
Kurtz noted that his law partner, Glen Torcivia, could take over as lead attorney and help the transition process, as well as possibly serve as interim attorney.
Margolis said that he had discussed plans for transitioning with both Kurtz and his law firm.
"It won't be a 30-day transition period," Margolis said. "It will be longer than that. It will be however long it takes. We have used Mr. Torcivia's law firm for HR issues and contracts. I think Mr. Kurtz is comfortable with his recommendations for the transition period."
But Coates said he thought there was no basis for firing Kurtz, pointing out that many of the lawsuits had worked out in Wellington's favor so far because of his guidance.
"I've been here for close to five years, and I have never had an issue with Mr. Kurtz, though at times I have disagreed with him," Coates said. "He is very well-qualified. We have been successful with the strategy that he has outlined in our litigation. In all three instances so far, the rulings have come back in favor of the decisions made by this village. To say you're just not happy with him without basis is not doing him or his law firm any justice."
Margolis said he didn't want to get into specifics, but that he had issues in the past.
"I've had a number of discussions with [Kurtz] on this issue," Margolis said. "I've always said that I can't question his legal skills, because I'm not an attorney, but I have had some issues regarding public records requests and timely updates."
Coates noted that if Wellington terminates its contract, it not only terminates Kurtz but also the law firm. Schofield said that was correct, and that the council could choose to stay with the firm but with a new attorney, or terminate it entirely.
"At some point you will have to decide who will be your counsel," he said. "Whether it's going to continue to be Mr. Kurtz, it will be someone from the Torcivia law firm, or whether you're going to go somewhere else, that is a decision you will have to make."
Schofield noted that the International Municipal Lawyers Association submitted a proposal to analyze Wellington's legal options for $12,500.
"But I do need some direction as to the decisions you want to make [regarding Kurtz]," he said.
Greene said he thought Wellington needed to come up with a new solution, especially in light of the money being spent on litigation costs that could be saved with an in-house legal department.
"I think it's a smart investment, when you look at the money we're spending on litigation, to see if we can find that proper balance, whether it's a hybrid system or a full in-house counsel," he said. "I think the dollars we are talking about make sense."
But Coates disagreed. "This just adds to increased uncertainty with what's going on in the Village of Wellington," he said. "This is going to be a long four years if we keep having issues like this that come up for no real good reason."
He offered a word of warning to Schofield in light of the issue.
"I've heard you're on the list as well," Coates said. "We are struggling to find continuity and certainty in this village, and this is another decision that, to me, has no rational basis. I think it's the wrong decision."
Greene called the question on Willhite's motion, which passed 3-2.
Schofield noted that the council would have to discuss an interim legal counsel at its next meeting. "I do not believe you're in a position to select a permanent counsel yet," he said.