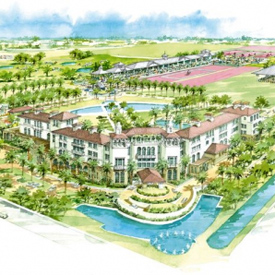 Hoping to find some common ground, members of the Wellington Village Council directed staff Tuesday to reject a settlement proposal offered by Equestrian Sport Productions CEO Mark Bellissimo and come up with a better counterproposal.
Village Attorney Jeff Kurtz said that he was looking for direction on how to respond to the settlement offer regarding the controversial Equestrian Village property, as well as whether to respond to a request for judicial review on the matter.
The lawsuit was filed by Bellissimo earlier this year, after council members revoked several measures that allowed the site to operate as a show facility. Since then, the council and Bellissimo's firm have come to a temporary agreement to allow the 2013 Global Dressage Festival to take place.
The fate of the site's permanent purpose and design, however, is still being contested in court.
Last month, council members directed staff in a similar manner, and counterproposals were discussed during an attorney/client session this week. Details were not released.
"This is not a mediation," Kurtz reminded council members. "I don't think we should discuss details."
Councilwoman Anne Gerwig said that by accepting the settlement offer and allowing the site to use its permanently constructed facilities, the community could get necessary road improvements done on South Shore Blvd.
She made a motion to accept the offer, which was seconded by Vice Mayor Howard Coates. But the motion failed 3-2.
Councilman John Greene said he thought Wellington was working to get the site "back on track."
Questions arose from council members about whether a rehearing would be necessary.
Kurtz said he would not recommend a rehearing on the matter because they could end up in the same position.
"If Mr. Bellissimo and his entities are successful, the court will say to come back and [hold a hearing] again," he said. "If he is unsuccessful, then there are other issues raised."
Gerwig said Wellington should have a good counterproposal prepared, and Greene agreed.
"I think it's appropriate that we do have a counter offer," he said. "We have the proposal in front of us, and I think there is potential to find some consensus and resolve this on different levels."
But Gerwig also worried that if the counteroffer included too many specific details, council members could be jumping the gun.
"We'd be moving on to the site plan stage without addressing the master plan and compatibility need," she said.
But Coates said he thought it might be easier to bring everyone to the table if they could find consensus on the final product.
"We may be able to get agreement on earlier portions of the project if we focus on what the ultimate site plan will be," he said.
Council members directed staff to take two weeks to come up with proposals and bring them back before the next meeting.
Kurtz also asked for council direction on whether to respond to a request for judicial review. "It is my suggestion that we do not respond," he said.
Greene asked for clarification.
"If we don't respond, what does that do in the eyes of the court?" Greene asked. "Does it hurt our case? I want to make sure we have a strong position in the eyes of the court."
Kurtz noted that Wellington was a named party in the matter along with Solar Sportsystems Inc., owned by the Jacobs family.
"They have filed a response," he said. "If the village does not respond, it does not mean the case goes undefended. If we weigh in on the matter, it could add something to the argument, but it's not necessary and not required."
Kurtz said that Wellington has taken the position of not responding in other similar legal matters, and it has not affected the court's ruling.
"Those have been defended by the applicants," Kurtz said. "And thus far the council's rulings have held up in court."
Coates agreed with Kurtz. "I am in favor of not responding," he said. "I don't want [us] to appear to be taking sides in what is a battle between the applicant and litigant. To respond, I think, could be perceived as taking sides."
Greene said he wanted to be sure that the position of the council will be defended. But Coates pointed out that his colleagues had seen no need to respond in defense of the previous council's actions on other similar matters.
"Every time we have chosen not to take a position, the courts have found we acted properly," Coates said. "I think to change tactics now would be a mistake."
Council members agreed and directed Kurtz not to respond.
ABOVE: An artistic rendering of the controversial Equestrian Village project.