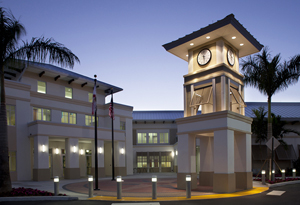 The second season of the popular Wellington Green Market kicks off next Saturday at a new location, but still offering the same farm-fresh produce and locally sourced treats.
Shifting location slightly, the Wellington Green Market has a new home in front of the Wellington Municipal Complex (12300 Forest Hill Blvd.), where people from all over the county can "Go West for Farm Fresh."
"We're really excited about it," organizer Peter Robinson said. "It will give us full visibility from Forest Hill Blvd., and I think the parking will be better."
The farmer's market runs every Saturday of the season from 8 a.m. to 1 p.m. starting Saturday, Nov. 10 and wrapping up in April. Offering everything from produce, breakfast treats and flowers to dog treats and more, the green market was a hit last season, drawing in hundreds of weekly visitors.
Robinson, who also runs the Lake Worth Farmers Market, began the Wellington Green Market last November. He said the community rallied around the idea, making the weekly event a huge success.
"The western communities really didn't have a great farmer's market," he said. "So they really supported the Wellington Green Market."
Last year's market brought 45 vendors from all over the area, including farmers selling fresh, locally grown produce.
In addition to the abundance of great produce and return of several popular vendors, Robinson said there will be new vendors, including freshly cut flowers and Stocked N Loaded, a food truck offering culinary treats. The truck will use some of the produce from the farmer's market to make great breakfast and lunch items, he noted.
Vendors returning this year include those selling French pastries, fresh empanadas, an Italian specialty booth, organic vegetables, cider donuts, coffee and dog biscuits, along with others.
"It's a great source for local product in a great, family-friendly environment," Robinson said. "It's a great Saturday morning activity."
The Wellington Green Market is put on in partnership with the Village of Wellington and the Wellington Chamber of Commerce.
"It's very well supported," Robinson said. "They have been a treat to work with, and they truly support the green market."
For more information, visit www.wellingtongreenmarket.com or call (561) 547-3100.