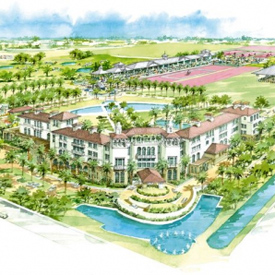 After several attempts to settle issues surrounding the Equestrian Village property, members of the Wellington Village Council decided this week to try to hash out details in a public meeting.
Council members voted unanimously Tuesday to set up a hearing early next year with representatives from Equestrian Sport Productions, which manages the property located at the corner of South Shore Blvd. and Pierson Road.
"What I would like to do is bring this issue to a head," said Vice Mayor Howard Coates, who led the charge. "I believe there is a desire among this council to address this head-on and make some changes, and at least put our best effort forward to find a solution that works for everyone."
The issue arose again when Equestrian Sport Productions submitted another settlement proposal to the village. But because of the state's Sunshine Law, council members are barred from discussing specifics, as well as counterproposal ideas, with each other outside of a public meeting.
This proved to be a problem last month when council members attempted to respond to another settlement proposal and were advised to use vague terminology.
"It was frustrating. The last time we went through this process, I felt like our hands were completely tied," Coates said. "We couldn't even respond to the proposal substantially."
Rather than respond to the settlement, the hearing would give council members the opportunity to give specific notes on the proposed settlement offers, as well as tell the applicant what they'd be willing to approve on the property, Coates said.
"We can come up with a resolution — come up with a very definitive counterproposal at that point," he said. "There would be no handcuffing of this council in terms of what we can propose. I just want to have an open dialogue between the applicant and us. I don't feel like we've had the opportunity to have that."
Councilman John Greene said that he believed the issue would eventually have to be brought to a hearing, but Councilman Matt Willhite said that was not necessarily the case.
"That is only if we are willing to make changes [to the settlement proposal] or settle," Willhite said. "If we were to deny [the proposal] entirely, it wouldn't go back to a hearing."
Willhite said Wellington had offered a modification to the last settlement offer, but now was back in the same position as last month because of the new proposal.
"We offered some alternative site plans," he explained. "Now they've come back with another potential offer. We can choose to accept or deny it."
Coates made a motion to deal with the settlement proposal in a hearing.
"I just don't think it's a constructive process, the way we're doing this," he said. "We can't talk amongst ourselves as to what we'd want to see changed — that would have to be at a public hearing. We can't really have discourse with the applicant because we're precluded by attorney's advice that we can't make an offer or counterproposal without a public hearing. So what are we doing? I have an idea that we're really doing nothing but wasting time."
Greene said he'd like an opportunity to read the new proposal before scheduling a hearing. "Maybe we can get a feeling for what direction we want to go in," he said.
Willhite agreed. "Staff didn't even get this in time to put it on the agenda," he said. "We just got this handed to us prior to the meeting. I think before we decide to do a [hearing] to hammer things out, I'd like to see what this says and see what issues there are."
Coates said he didn't have a problem setting a date in the future but wanted to reach a consensus on the idea of trying to work the issues out at a public hearing. "What I want to avoid is wasting time," he said. "We spent several hours discussing it last time, and at the end of the day we gave them three or four plans that we think maybe we might approve and told them to figure out what we were thinking."
Mayor Bob Margolis agreed. "We're just continuing to circle around and around," he said. "Eventually, we have to open up a dialogue and talk amongst ourselves in a public forum."
He suggested that council members vote on Coates' motion and then take time to figure out when would be the best time for the hearing, finalizing a date at the council's next meeting on Dec. 11.
Councilwoman Anne Gerwig said she would agree with the motion but that she thought the hearing would be pointless.
"I think delaying this litigation is futile," she said. "I think it's going to be decided in court. I don't see this council being able to come to any kind of agreement amongst ourselves, let alone with the applicant or the other interested parties."
But Coates said he is an optimist.
"I know this is a lightning-rod issue for the council, but I want to be done with it," he said. "I think the time is now that we could find a resolution if we all work together. I sense there's been a change in the community and change in this council, and that the timing is right."
ABOVE: An artistic rendering of the controversial Equestrian Village project.