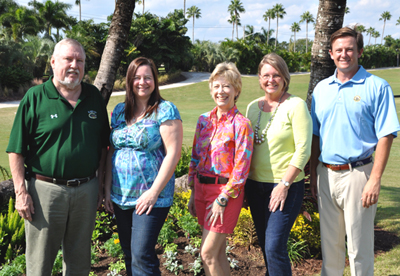 Wellington High School Project Graduation will host its annual charity golf tournament Saturday, Dec. 1 at the Wanderers Club.
The tournament will feature a shotgun start scramble format at 12:30 p.m. Registration is currently open for golfers, members-for-the-day and multiple levels of sponsorships are available beginning at $100. The cost is $125 per golfer or $500 per foursome, which includes tournament play, cart, on-course refreshments and dinner. A $50 discount is available for a WHS student registering with an adult. Hole sponsorships honoring Class of 2013 seniors or advertising your business are available for $100 each.
The tournament will feature contests, prizes and a silent auction. Members-for-the-day is an option for non-golfers who will enjoy a day of fitness and poolside enjoyment and dinner for $45 per person. Silent auction items will include foursomes at many of the fine Palm Beach County golf courses, event tickets, fine dining gift cards, salon and spa visits and wine tastings.
Proceeds from the golf tournament will support Project Graduation, a lock-in event, free from alcohol and other drugs, for all graduating seniors of the Class of 2013. It is coordinated by volunteer parents, raising funds in partnership with community businesses. This event is not funded by the Palm Beach County schools and costs $20,000 to $30,000 to produce the graduation night event.
The committee is currently accepting donations for the silent auction, and limited sponsorships are still available. To register, contact Karen Herrick at (561) 790-2726 or Pam Yackulics at (561) 628-1435 or by e-mail at wellingtonprojectgrad2013@gmail.com.
ABOVE: Ed Portman, Chrissy Henley, Pam Yackulics and Karen Herrick of the Wellington Project Graduation Committee coordinate with Justin Thompson of the Wanderers Club for the Dec. 1 event.