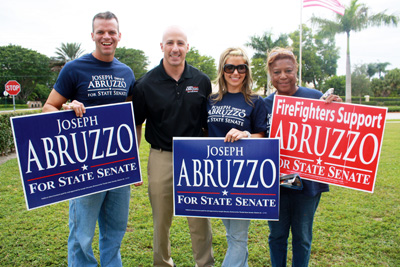 In 2012, Palm Beach County saw the return of several familiar faces to office in hard-fought contests during its August and November elections.
Residents also garnered support from the Palm Beach County Commission on concerns about keeping livestock under county codes, which were amended to be more explicit.
But controversy continued around the Office of the Inspector General, with the county continuing to be embroiled in a lawsuit and having to find other methods of funding.
State Legislators Re-Elected
Election Day in November was a winner for incumbents in local State Senate and State House races when voters chose to retain their representatives in Tallahassee.
Democratic State Rep. Joseph Abruzzo will get a title change as the first state senator from the newly redrawn District 25 after he defeated Republican challenger Melanie Peterson.
Meanwhile, State Rep. Pat Rooney (R-District 85) and State Rep. Mark Pafford (D-District 86) were chosen by voters to retain their redrawn seats.
Newcomer Murphy Edges Rep. West
One of the most controversial political races in November was U.S. Congressman-Elect Patrick Murphy's narrow victory over incumbent Allen West for Florida's newly drawn 18th Congressional District.
Murphy and his supporters declared victory the day after the election, although West filed lawsuits that were eventually unsuccessful.
In other local races, Democratic Congressman Alcee Hastings easily won the newly drawn District 20, while fellow Democratic Congressman Ted Deutch was also successful in his re-election bid for the newly drawn District 21 seat.
Constitutional Incumbents Easily Return To Office
In August, five incumbent constitutional officers in Palm Beach County were re-elected to their positions by large margins.
Sheriff Ric Bradshaw easily defeated two challengers, Joseph Talley and Cleamond Lee Walker.
While operating the election, Supervisor of Elections Susan Bucher also won a second term in office, receiving just under 68 percent of the vote in a three-way race against Delray Beach Mayor Nelson "Woodie" McDuffie and former elections office employee Caneste Succe.
Palm Beach County Clerk Sharon Bock received 76.3 percent of the vote in a race against mortgage fraud activist Lisa Epstein.
After 20 years on the job, Property Appraiser Gary Nikolits took 70.1 percent of the vote against attorney Robert Weinroth.
In the Democratic primary for Palm Beach County Tax Collector, incumbent Anne Gannon easily defeated former Tax Collector Peter Carney, receiving 87.1 percent. Gannon formally gained a new term in November when she faced only write-in competition.
County Weighs In On Residents' Right To Keep Livestock
In a 4-3 decision on Aug. 23, the Palm Beach County Commission approved a change to the Uniform Land Development Code that will allow livestock to be kept on property in The Acreage and Jupiter Farms.
The change would protect residents on lots smaller than 2 acres in the agricultural and exurban tiers who are guaranteed the right to keep livestock in the comprehensive plan but previously had no supporting language in the land development code.
However, the commissioners postponed adoption of other rules that would provide further regulation on items such as accessory structures, setbacks and sale of goods.
Due to the many public opinions expressed on the proposed ordinance, Former County Commissioner Karen Marcus suggested that the commissioners change only the acreage size and postpone the remainder of the proposed ordinance until they receive further review and public input.
County Holds Tax Rate Steady
In September, the county commission gave final approval to a $3.4 billion spending plan for fiscal year 2012-13, which started Oct. 1.
The commissioners set the county's general fund tax rate at 4.7815 mills, the same rate as last year. At that rate, the county will take in just under $600 million in ad valorem property taxes, up slightly from the previous year.
Commissioner Paulette Burdick said she was cautiously optimistic about the future revenue picture.
Palm Beach County Fire-Rescue, which is part of the county budget but an independent taxing unit, took a small decrease in its millage rate from 3.4634 in 2012, which generated $177.2 million, to 3.4581 in 2013, which will generate $177.0 million.
The decrease is depleting fire-rescue's reserve, but the county is banking on optimism that the economy will continue to recover before the reserve is completely depleted years down the road.
Lawsuit Continues Over IG
Controversy continued to swirl around funding for the Office of Inspector General in 2012. According to the ordinance that created the office, it is to be funded with a .25 percent charge included in vendor contracts, but officials in many cities alleged that would be too burdensome.
In March, the county commission rejected a settlement proposal from 15 cities involved in a lawsuit challenging the method of payment for the IG's office, saying that it offered too many exceptions for certain businesses. Wellington later pulled out of the lawsuit, reducing the number of cities in the lawsuit to 14.
The commission conducted a referendum in November 2010 asking if the municipalities should come under the jurisdiction of the inspector general, which passed with a 72 percent margin.
ABOVE: Joseph Abruzzo campaigns during his successful State Senate bid.