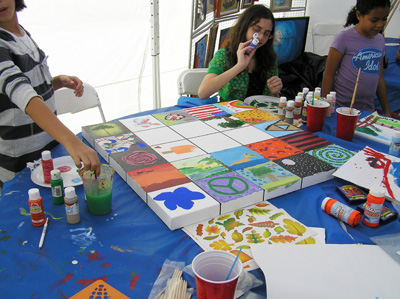 ArtFest on the Green, the Wellington Art Society's seventh annual fine art and fine craft show, will take place Saturday and Sunday, Jan. 5 and 6 at the Wellington Amphitheater.
The show, previously called Fall Fling, has expanded over the years and now includes artists from all over the state. This year's co-chairs are Leslie Pfeiffer, Sandy Axelrod, Ilene Adams and Adrianne Hetherington.
This year's event will be a juried show, with locally known art professionals Jamnea Finlayson and Ted Matz serving as judges. There will be $1,500 in prize money awarded to winners. "We have close to 50 artists from all over the state participating in the show, which is almost doubled from last year," Hetherington said.
There will also be a student art competition judged by Adams and Mag Frye.
"We will have three categories for the student art: elementary, middle and high school," Hetherington said. "We will also have a children's activity space, where they will be given a commemorative ArtFest calendar for them to paint."
All artists who enter in the show are part of the competition. On Saturday morning, the judges will go around to each of the artists' tents to determine the winners. "They will be judged on presentation, the setup itself and the work they are displaying," Hetherington said.
Checks and ribbons will be awarded to the fine artist winners in the categories of best in show, $600; first place, $400; second place, $300; and third place, $200. "We will also be giving honorable mention ribbons," Hetherington said. "The children will be receiving ribbons as well."
The show is a major opportunity for artists to gain more recognition. In order to be accepted into the show, artists previously had to submit photos of their work. "If chosen, we then sent them letters of acceptance," Hetherington said. "Now they get to be judged by prominent artists in Palm Beach County."
The show is popular because of the variety of artwork available for viewing and purchase. "We will have everything from oil paintings, watercolors, fantastic sculptures, photography, lovely stained glass and fiber art to beautifully handcrafted jewelry," Hetherington said.
The event will also include live music and food vendors, and the Wellington Green Market will be taking place at the same time on Saturday morning. "It's our biggest event of the year," Hetherington said. "It's an event for all members of the family, where people can come out and spend the day and view wonderful art that they would not see otherwise."
Proceeds from the event will go toward the Wellington Art Society scholarship fund. "We give out scholarships every year to high school students majoring in art and design," Hetherington said. "We give them out at the end of the year in May."
Event sponsors are the Children's Hospital at Palms West, Whole Foods Market of Wellington, TD Bank and Jerry's Artarama.
"We also want people to learn about the Wellington Art Society," Hetherington said. "We will have a tent set up for people to know more about us and what we do."
ArtFest on the Green is free and open to the public. The event hours are from 8 a.m. to 5 p.m. on Saturday and 10 a.m. to 4 p.m. on Sunday. For more information, visit wellingtonartsociety.blogspot.com.
ABOVE: While adults view available art such as paintings, sculpture, photography, stained glass and handcrafted jewelry, there will be activities for children to get creative as well.