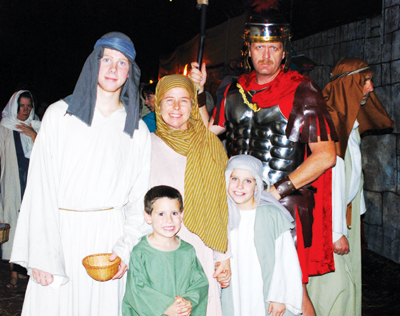 Community of Hope Church in Loxahatchee Groves will transport guests back to biblical times during its annual Back to Bethlehem celebration this weekend. Guests can experience the tale of the birth of Jesus Christ as it happened more than 2,000 years ago with a fun and interactive tour of the "city of Bethlehem."
The free, family-friendly event runs Friday through Sunday, Dec. 7 through 9, from 7 to 9 p.m. nightly on the church's property at Okeechobee Blvd. and E Road (14101 Okeechobee Blvd.).
"It's a live, interactive walk-through experience where you can walk into Bethlehem as it would have been 2,000 years ago," project manager Trish Zenczak said. "It's the origination of Christmas, and our way of giving back to the community."
The event started in 2006 and has grown by leaps and bounds with outpourings of community support.
"It started on a much smaller scale," Zenczak said. "We wanted to reach out to people who have never heard the story of Christ, to engage them and hopefully have them come away wanting a relationship with him."
Guests enter the walled city, built by volunteers, and are thrust into the seemingly authentic world, replete with street vendors, live animals and all the hustle and bustle of the biblical city. In a tour that lasts approximately 45 minutes, the birth of Christ is foretold for guests, then they are guided through the city and are able to browse shops and other staples of old Bethlehem. The tour culminates as guests witness a live baby Jesus and the Holy Family.
The event is popular, often drawing a crowd of more than 8,000. Zenczak attributed the success to the desire of many families to embrace the true meaning of Christmas. "People want to be a part of Christmas," she said. "They want to experience something that is authentic and be in touch with the holiday's true meaning."
All of the experience is made possible through volunteers young and old, Zenczak said.
"We have at least 250 people participating across the board, and more that show up to help," she said. "There are 130 actors, all of them volunteers, and about 25 to 30 of them have scripted parts that they have to memorize. We bond so much through the experience and see it as a way to show Christ's love."
Volunteer Alice Wallace, 56, has been volunteering with the event for six years, both as an actor and in hospitality. "I actually played inside the birthing area," she said. "It's really breathtaking to see the reactions of the people. Other times, I was on the hospitality side of things, which is also amazing."
Wallace said the experience has been a joy for all those who choose to participate, whether it's through volunteering or simply attending.
"It makes you realize the true meaning of Christmas," she said. "I'm so happy to be a part of it. It's such a good feeling, like being in Disney. But then you think back and realize that all of this really did happen 2,000 years ago."
Don Gay, who heads the church's self-proclaimed "Second Half Seniors" ministry, said the event is an opportunity for people to see biblical times spring to life. "It's something we do to give back and tell our community how much we enjoy them," he said. "We do it from the love in our hearts."
For more about the event, or about the church, call (561) 753-8883 or visit www.gocoh.com.
ABOVE: Back to Bethlehem features costumed townspeople, complete with Roman soldiers.