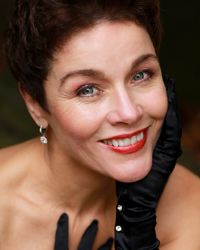 Bob Lappin and the Palm Beach Pops are setting the stage for a tribute to the great ladies of the American Songbook with Broadway superstar and Tony nominee Christine Andreas in Here's to the Ladies set for Jan. 5-10.
Performances will take place at the Kravis Center for the Performing Arts in West Palm Beach, the Palm Beach State College Eissey Campus Theatre in Palm Beach Gardens and the Florida Atlantic University Kaye Performing Arts Auditorium in Boca Raton.
Andreas is appearing in the third series of the Pops' 21st season. Having recently ended performing in La Cage Aux Folles with Kelsey Grammar last year, Andreas is an audience favorite. Songs that will be featured during this concert include "Don't Rain on My Parade" and "Somewhere Over the Rainbow," among many other favorites.
Andreas returned to Broadway in April 2010 and starred nightly as Jacqueline in the award-winning production of La Cage Aux Folles with Kelsey Grammer and Douglas Hodge.
Prior to La Cage, she received nationwide raves starring as Margaret Johnson in the 55-week national tour of the award-winning musical The Light In The Piazza.
"Christine Andreas is an outstanding actress with an incredible voice and our audience loves her. Her voice combined with the talent of our virtuoso musicians will most certainly result in a magical night celebrating the amazing women of the Great American Songbook," Lappin said.
Best known for her work on Broadway, Andreas burst onto the New York theater scene starring as Eliza Doolittle in the Royal Shakespeare Company's 20th anniversary production of My Fair Lady and garnering the Theatre World Award. Andreas received two Tony nominations re-creating Laurey in Oklahoma! and as Frankie Frayne in On Your Toes. Andreas created the role of Marguerite St. Just on Broadway in the original production of The Scarlet Pimpernel.
Engagements in New York at the Café Carlyle and the Algonquin's Oak Room prompted the New York Times to extol, "She delicately kills with the sheer beauty of her voice… She finds a blend of lyricism and sweet sensuality that only the finest Broadway voices can conjure." Her Carnegie Hall debut was hailed as "brilliant," "delicious" and "sexy" in Variety. The L.A. Times called her "a mesmerizing musical presence."
Concerts for Bob Lappin and the Palm Beach Pops begin Jan. 5 and 6 at the Carole and Barry Kaye Performing Arts Center at Florida Atlantic University in Boca Raton, Jan. 8 at the Eissey Campus Theatre at Palm Beach State College in Palm Beach Gardens and Jan. 9 and 10 at the Kravis Center in West Palm Beach. Tickets start at $29 and are available by calling (561) 832-7677 or visiting www.palmbeachpops.org.
The Kravis Center is located at 701 Okeechobee Blvd. in West Palm Beach. Visit www.kravis.org or call (561) 833-8300 for tickets.
The PBSC Eissey Campus Theatre is located at 3160 PGA Blvd Palm Beach Gardens. To contact the ticket office, call (561) 207-5900.
The FAU Kaye Performing Arts Auditorium is located at 777 Glades Road in Boca Raton. To purchase tickets, visit www.fauevents.com/online.
Also, the Palm Beach Pops is offering a holiday special on four concert ticket packages. Purchase all four concerts, Here's to the Ladies, Maestro of the Movies, Clint Holmes and Sensational Broadway for as little at $119 and up. Call (561) 832-7677 for more information.
ABOVE: Christine Andreas