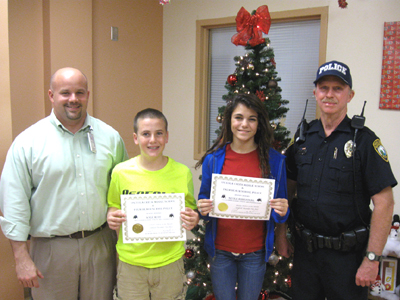 Osceola Creek Middle School has announced the recipients of its Scholar-Athlete Award for November. The award is sponsored by the school police and honors varsity athletes who also excel in academics, effort, behavior and school spirit, and serve as role models for others. This month's honorees carry high grade point averages as well as play varsity sports.
Girls volleyball honored Nicole Rosenthal, 13. "Nicole is a first-year player who is improving every day," coach Shayne Sanderford said. "She has improved already, and I expect her to continue to improve throughout our season. She not only is a good player but has an exemplary attitude on and off the court. I look for her to improve every day and expect to see her playing at the high school level next year."
Rosenthal is an eighth-grader with a 3.57 GPA. She has not yet decided which college she would like to attend; however, she is set on a law enforcement career and would like to eventually work at the FBI.
Boys soccer honored seventh-grader Kyle Huff. "Kyle is not only an exceptional soccer player; he also holds one of the highest GPAs in the school," boys soccer coach Tony Bugeja said. "We are blessed to have Kyle as part of our soccer family tradition here at OCMS."
Huff, 12, has perfect attendance to go along with his 3.86 GPA. He also plays volleyball and was Osceola Creek's Sixth-Grade Athlete of the Year. Huff would like to attend the University of Central Florida to study law or marine biology.
Supporting the program are Subway and Burger King (at Seminole Pratt Whitney Road and Orange Blvd.), and Dairy Queen (at Royal Palm Beach and Okeechobee boulevards), which donated free food coupons.
ABOVE: Osceola Creek Principal Dan Frank, Kyle Huff, Nicole Rosenthal and School Police Officer Sandy Molenda.