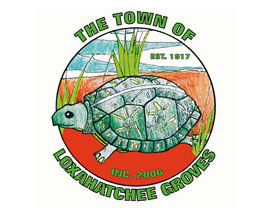 The Loxahatchee Groves Town Council directed its staff Tuesday to prepare a report on whether council members should receive some form of compensation for their time and effort.
Councilman Tom Goltzené, who supplied a list of other county municipalities that give council members some sort of stipend, said he favored compensation, considering the amount of work council members do.
"The reason I'm bringing this up is that most everybody is probably aware right now there is no compensation whatsoever for the position of council member, vice mayor or mayor, and that is out of line with most other municipalities in Palm Beach County," Goltzené said, explaining that he believes the lack of compensation detracts from the pool of people who might be willing to serve.
Councilman Ron Jarriel agreed. "I'm going to want somebody to take my place one of these days, and I feel like if they had some incentive for being on here, it would be good because there's going to be a lot of abuse from the people of Loxahatchee Groves," Jarriel said. "Everybody else in Palm Beach County gets paid, and I think we can afford to pay the council members."
Jarriel wanted to find out how to start the process. "The guy or woman who takes my place, I feel that they deserve something for sitting on this council," he said.
Councilman Ryan Liang said that such a change will need further discussion, including taking input from residents.
Goltzené pointed out that the town charter provides that council members are entitled to reimbursement for travel and/or per diem expenses in the performance of their duties. However, no changes to compensation can take effect until the current terms of sitting council members end. Therefore, Goltzené said he would like any changes in compensation to be in place before the March election.
Mayor Dave Browning said that he could not visualize anyone serving on the council for the money, which would probably be minimal. "I do not see that we could go for the same amount of money that these other towns pay," he said. "But at the same time, a reasonable compensation is worthy of consideration."
Councilman Jim Rockett said that while he favored some sort of compensation, the town's population is far less than most other municipalities, which would limit the amount of the remuneration. "I'm here on the board to serve, and that's why I'm here, but I recognize the issue," he said.
Town Manager Mark Kutney said that he would look into how to structure such compensation, whether it be compensation per meeting, for travel, per diem expenses or recurring expenses such as cell phone usage.
Town Attorney Michael Cirullo said he would have a report ready in time for the council meeting on Jan. 15.
Three members of the public, Loxahatchee Groves Supervisor John Ryan, Finance Advisory & Audit Committee Member Lung Chiu and Thais Gonzalez, spoke in favor of compensation.
In other business:
• The council also approved a resolution setting the parameters of the upcoming election for Seat 2 (occupied by Rockett) and Seat 4 (occupied by Browning), to be held March 12. The filing period opens noon Tuesday, Jan. 29, and closes noon Tuesday, Feb. 5.
Cirullo also pointed out that in the past, the council had designated the supervisor of elections as its representative for the canvassing board on election night, but that the supervisor has since determined that the town's canvassing board will have to be at the elections office on election night to review the results. "Every city that has an election that evening, their canvassing board will be there," Cirullo said.
Liang made a motion to approve the resolution, which carried 5-0.
• The council also approved a resolution supporting Palm Beach State College's plans to build its fifth campus in Loxahatchee Groves, after some residents initiated a petition to stop the project.
Goltzené made a motion to simplify what he felt was an overly lengthy ordinance, to say simply that the council reaffirmed its vote to approve the college, but his motion died for lack of a second.
Rockett made a motion to approve the resolution as written.
Goltzené pointed out that he had voted for the college. "I'm happy with that and apparently there are people who aren't, but I really don't want to attribute to other people motives or actions that I'm not aware of," he said.
Six people spoke regarding the resolution, including petition initiators Todd McLendon and Gonzalez, who oppose the campus project. Residents Ken Johnson, Chiu, Ryan, Howard Voren and Philomena Liang spoke in favor of the resolution. The motion carried 4-1 with Goltzené opposed.
• The council also approved preliminary reading of an ordinance regulating the sale of hay from residential property. Kutney said the ordinance was the result of a code enforcement complaint.
Goltzené made a motion to continue the ordinance to Jan. 15 due to its complexity, but it failed for lack of a second. Rockett said they could make minor changes between first and second reading, and he made a motion to approve the ordinance. It carried 4-1, with Goltzené opposed.