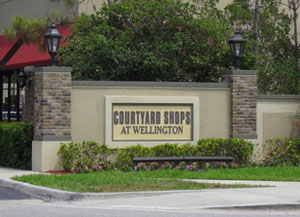 Giving back to the community this holiday season, several restaurants in Wellington's Courtyard Shops will be donating a portion of their profits Wednesday, Dec. 12 to help put smiles on the faces of Wellington children.
"Ten percent of their profits will be donated to Wellington to buy kids toys," said Palm Beach County Sheriff's Office Deputy Scott Poritz, who put the event together. "The more people who go out and eat, the more they will donate and the more toys we can buy this year."
The event will support Wellington's Hometown Holiday Toy Drive, which is accepting new, unwrapped toys through Dec. 20. It is being held in partnership with the PBSO.
"I came up with the idea as a way to help out," Poritz said. "The toys go to children in our community, as well as those in the pediatric ward at the hospital."
Poritz said it is important that the donated toys stay in the community. He noted that other toy drives benefit children regionally, not locally. "The toys may be donated in Wellington, but they don't necessarily go to Wellington children," he said.
This event will benefit twofold: the toys will stay in Wellington, and it will also boost local businesses.
Participating restaurants are TCBY Wellington, which will donate 10 percent of profits all day long; Tijuana Flats, which will participate during lunch and dinner; and Kontiki Wine & Raw Bar, which will donate a portion of its proceeds from 7 to 10 p.m.
TCBY will also have a box to collect toys for the drive.
"By going out and eating, you're contributing," Poritz said. "There's something for everyone. Kontiki is a little more upscale of a restaurant with great food and drink. Tijuana Flats is a great family place, and TCBY is something everyone can enjoy. It really gives people a great opportunity to give back by just going out to eat."
The goal is to raise more than $1,000, Poritz said. Already, Kontiki has donated $500 to kick things off.
"We're already halfway there," Poritz said. "But we really hope people will come out and support the cause so we can buy even more toys."
Poritz hopes to continue the event annually and bring in even more businesses next year.
"We really hope to put this in the community's hands and get everyone out to support this," he said.
Toys for the drive can be dropped off at any Wellington office until Thursday, Dec. 20. For more information about the drive, visit www.wellingtonfl.gov.