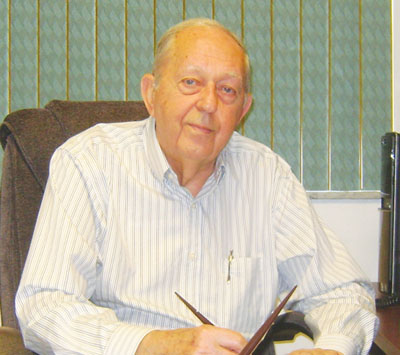 Years after a task force first asked the Wellington Village Council for a permanent voice for senior citizens in village matters, the inaugural Wellington Senior Advisory Committee finally will have that chance.
The advisory board was approved earlier this year and held its first meeting Thursday, Dec. 6.
The new committee was a priority for Wellington Mayor Bob Margolis in his campaign because, he said, Wellington seniors have often been overlooked.
"We have so many different advisory boards, and I think that's a big segment of this village that we were missing," Margolis said. "We have the seniors club, but they are more social in nature."
In 2006, the council created a task force to look into issues plaguing Wellington's elderly residents. At the helm was Chairman Howard Trager, who now sits on the Senior Advisory Committee.
"The council at that time wanted to find out what we were or were not providing for seniors," Trager said. "We did surveys to find out what seniors wanted and gathered information for the village."
And the task force discovered that Wellington was not offering as much programming for seniors as it did for other demographics. "There was a large segment of the population who basically have not been served, with the exception of the Wellington Seniors Club," he said.
Other issues such as housing and transportation were also on the forefront of seniors' minds, Trager said, adding that with the census predicting that as much as 23 percent of Wellington's population will be senior residents by 2020, the task force agreed it was important for them to have a voice in village operations.
"One of the top recommendations was that council create an advisory committee," Trager said. "We felt that Wellington was doing amazing things for kids and equestrians, but it was time to do something for seniors."
But the idea did not gain traction until earlier this year.
Newly appointed Senior Advisory Committee Chairman Tony Fransetta said he felt senior issues were made election issues to gain support. "I think they wanted to get past the next election and give people the impression that something was being done for the seniors," he said.
Trager said he hopes the committee can be a voice for seniors and senior issues.
"I think it will be an opportunity for seniors to have a voice and express some of their needs," he said. "That includes transportation, which Wellington has addressed, assisted and independent living, healthcare and, of course, the community center. We've been talking about that for years, and nothing has been done. There are several major issues, but there has never before been a sounding board for seniors."
Margolis has long advocated for seniors to take an active role in planning for the rebuilt Wellington Community Center, but he said he believes the committee will be useful long after the new building is erected.
"I think that they can help facilitate interactions between seniors and the government," he said. "By that I mean how to navigate through programs like Social Security, Medicare and more. I see them being a liaison and instructing seniors on where to go if they have problems."
Fransetta said he hopes the committee can identify needs in the community and suggest programming that can benefit seniors.
"I don't see us administering the programs but rather identifying a need and suggesting we create programs to fill those needs," he said. "We now have the ability to go to the community and bring issues forth that they want addressed."
One of those issues is housing. "We still have an exodus of seniors leaving Wellington," Fransetta said. "They are downsizing and finding themselves in positions where they can't afford or aren't physically able to maintain the property they live in."
Though this month's meeting was mostly organizational, Fransetta said he's requested the committee to solicit community input on issues. "There's no sense in us having a senior committee meeting without allowing input from residents," he said.
He encouraged anyone with a stake in issues affecting senior citizens, be they seniors or children of senior residents, to come to meetings and have their voices heard. "We're trying to set this up to suit the needs of the seniors in Wellington, but also the populace in general," Fransetta said.
For more information on meeting dates, visit www.wellingtonfl.gov.
ABOVE: Wellington seniors activist Tony Fransetta.