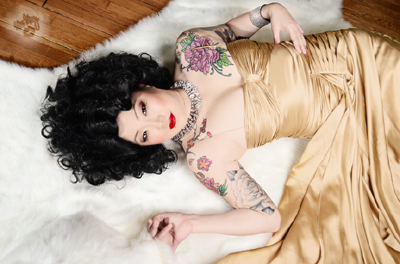 Critically acclaimed comedian Margaret Cho brings audiences her unflinching brand of comedy with her new show Mother. The show offers up an untraditional look at motherhood and how we look at maternal figures and strong women in queer culture.
It's probably Cho's edgiest show to date. Nothing is sacred. A part of the PEAK (Provocative Entertainment At Kravis) Series, Margaret Cho: Mother takes place Sunday, Jan. 27 at 8 p.m. at the Kravis Center for the Performing Arts.
Tickets start at $15 and are on sale now. The show is recommended for mature adults.
The cornerstone of Mother revolves around Cho's long-suffering Korean mom and a staple of her shows, Seung-Hoon Cho. "It's great because I get to put a lot of emphasis on my own mother," Cho explained. "My mother did not prepare me for the world. First, I was named the poetic Korean name 'Moran,' which was perfect for the kids at school to call me 'moron' and set me up for a good quarter-century of therapy. However, I can clean a fish with my bare hands. So there are pros and cons of being from an Asian immigrant family."
Cho toured various U.S. and U.K. markets in late 2012 with Bust magazine attending her show in Paris. "Ms. Cho put on a hysterically funny 90-minute set," Bust declared. "It was the most explicit and painfully honest performance I've ever seen from her giving it 100 percent."
Cho was also nominated for her third Grammy Award recently. Cho Dependent: Live in Concert nabs a Grammy Award nomination in the Best Comedy Album category. In addition, Cho was nominated for a Grammy Award for her 2010 music CD release Cho Dependent and for 2004's concert CD release Revolution. The Grammy Awards will be handed out on Sunday, Feb. 10.
In addition to her live performances, Cho is making various television appearances in January, including Late Late Show with Craig Ferguson on Thursday, Jan. 10, Comedy Central's The Burn With Jeff Ross on Tuesday, Jan. 22 and The Ricki Lake Show in mid-January.
Cho's performance is part of the Kravis Center's PEAK Series. PEAK focuses on ethnic diversity and contemporary themes, to elevate the creation and understanding of artistic expression, with an emphasis on performers drawn from diverse cultural backgrounds and communities.
PEAK is made possible by a grant from the MLDauray Arts Initiative in honor of Leonard and Sophie Davis.
Margaret Cho: Mother takes the stage at the Kravis Center on Jan. 27 at 8 p.m. Tickets start at $15 and are on sale now. Tickets may be purchased at the Kravis Center web site by visiting www.kravis.org/margaretcho; by calling the box office at (561) 832-7469 or (800) 572-8471; in person at the Kravis Center box office located at 701 Okeechobee Blvd. in West Palm Beach; and at all Ticketmaster outlets.
Group orders of 10 or more receive a discount and may be placed by calling (561) 651-4438 or (561) 651-4304.
ABOVE: The Grammy-nominated Margaret Cho brings her new show Mother to the Kravis Center Sunday, Jan. 27.