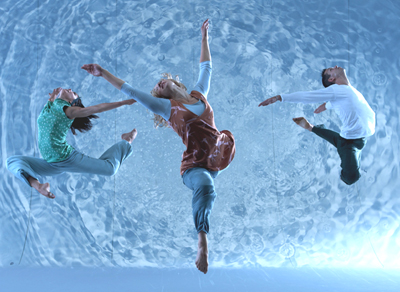 After four highly successful tours to venues across the United Kingdom plus performances in Macau, Romania, Belgium and Portugal, the critically acclaimed dance-theater company Motionhouse comes to North America for the first time with Scattered at the Kravis Center for the Performing Arts on Jan. 22 and Jan. 23 at 7:30 p.m.
Scattered is directed by Motionhouse Artistic Director Kevin Finnan, and it combines Motionhouse's trademark highly physical dance theater and mesmerizing imagery in a unique interaction between film and live performance, created in collaboration with filmmakers Logela Multimedia from the Basque region of Spain.
Scattered explores our relationship with water and how it surrounds us in different forms throughout our lives: in birth water ties us to life and on a more elemental scale, in ice, floods and tides, it can sweep lives away. Scattered delves into both the majesty and savagery of water, a fundamental force in our lives as seven dancers plunge into an ocean, wrestle a raging tide and slide on an avalanche to a frozen landscape of arctic beauty.
Performed on a huge curved floor that disappears skyward, Scattered uses projection technology, daring dancing plus aerial harnesses and bungee cords to create an extraordinary world in which the dancers move seamlessly in, on and through the image.
The performers are at one moment on the stage then suddenly sprinting up the upstage curved wall (which is like a half pipe ramp in skateboarding or snowboarding), immersing themselves in sensational images of cascading waterfalls, rainstorms and swimming pools. They hang suspended over a frozen landscape of arctic beauty at the very top of the curve before diving onto the stage through the ice floes and frozen waters; they hurl themselves into tidal waves, they stride up projected escalators, they fling themselves onto projected deckchairs and they catch, throw and hold each other in impossible embraces.
Motionhouse takes over the Kravis Center's Marshall E. Rinker Playhouse on Tuesday, Jan. 22 and Wednesday, Jan. 23 at 7:30 p.m. Tickets cost $28 and may be purchased at the Kravis Center box office (701 Okeechobee Blvd., West Palm Beach), by calling the box office at (561) 832-7469 or by visiting the Kravis Center web site at www.kravis.org/motionhouse.
ABOVE: A production still of performers in Scattered.