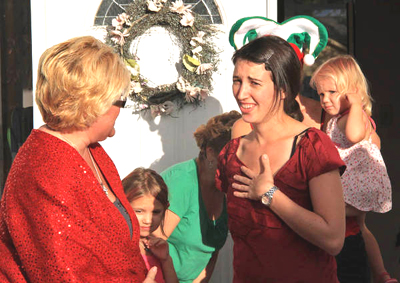 It has been two months since Diana Schiro's husband, Joe, died while serving in Afghanistan. Christmas was approaching, and she and her three small children were not feeling the spirit of the holiday. Still deeply mourning their loss, the family did not even bother getting a Christmas tree.
All that changed on the afternoon of Saturday, Dec. 15, when Schiro heard fire-truck sirens approaching. She peeked out the window and noticed that the truck, accompanied by a parade of cars, was stopping right in front of her house.
She opened her door to find crowds of people and firefighters from the Palm Beach County Fire-Rescue station in Wellington. Before she could say a word, she saw, coming through the crowd with a bouquet of flowers, a familiar face — the Little Blessings teacher at First Baptist Church of Royal Palm Beach, Chrystal Fernandez.
"When all the Little Blessings mommies heard what happened to Diana's husband, they were so sad about it, and we knew we had to do something special for her," Fernandez said.
They first agreed to take up a collection for her, but since Christmas was coming up, they decided to wait until then. "We thought we could then go Christmas caroling at her house and give her the collection," Fernandez said. "But it just snowballed from there."
They ended up getting someone to dress up as Santa and a professional costume performer to play Cinderella for the children. They also contacted the Wellington firefighters, who decided to help out. "They were really excited about it and even got Diana and her children a Christmas tree, put it up and decorated it for them, which was really sweet," Fernandez said.
Fernandez and her friend Anna Perrella organized the event with help from the other Little Blessings mothers, along with Schiro's mother and sister. "Everyone knew about the surprise except her and the children," Fernandez said.
Perrella did not know Schiro before the surprise. "I just heard about what happened to her, and I knew that I had to do something to help," she said. "My son-in-law is serving in the Army. Diana and her husband were a young family like my daughter and her family."
More than 50 people showed up to surprise Schiro and her children with gifts, money and hugs. The King's Academy choir, Schiro's former high school choir, also participated in the surprise by sending 30 students to sing Christmas carols.
"Everything was beautiful, and we ended with 16 cars convoying from First Baptist Church in Royal Palm Beach to the Wellington fire station," Fernandez said. "We put Santa in one of the fire trucks and then headed over to Diana's house."
When Fernandez handed Schiro the flowers, she smiled and gave her a hug. "She was so emotional that we did all that for her," Fernandez said.
Schiro received an estimated $2,000 from people to use for Christmas gifts. "That was amazing because we started out with $60," Fernandez said. "People just kept on giving, and even on the day of the surprise, people were giving."
Everybody from the neighborhood came outside to see what was going on. "They even joined in the surprise, which was really nice," Fernandez said.
Fernandez met Schiro when she started bringing her children to Little Blessings, a free outreach program for mothers and their small children.
"I've been teaching this program for 15 years, and I used to bring my children to it," Fernandez said. "You don't have to be a member of our church to come, and we have mothers from all denominations."
It's a place where mothers can play with their children. "The mothers are all supportive of each other, and that's why what happened to Diana affected them so much," Fernandez said.
Perrella and Fernandez used their planning skills to organize the entire surprise. "We just wanted to see a smile on her face," Perrella said. "That was our goal, and we accomplished that."
ABOVE: Chrystal Fernandez receives a thank-you from Diana Schiro. Photo by Dennis Jordan