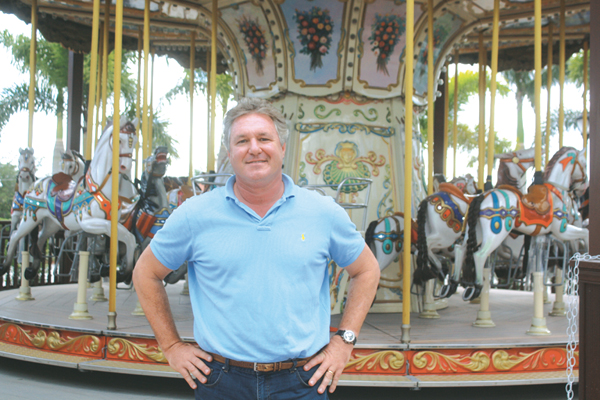 A stunning, hand-painted Venetian carousel now sits as a warm welcome to the entryway of the Palm Beach International Equestrian Center, and show promoters hope the whimsical fixture will serve as a beacon for the children and families of Wellington.
"It's really amazing," said Mark Bellissimo, CEO of Equestrian Sport Productions. "We thought it would be a great opportunity not only to have it as an entrance feature, but also to try to create a magnet that will bring families to the facility."
The carousel will be open to the public during the Saturday Night Lights events at PBIEC as well as for events during the week. "We plan to have nights where it is open for a small fee, and the net proceeds will go to charity," Bellissimo explained. "For the next couple of weeks, the proceeds will go to the Great Charity Challenge."
The carousel also goes hand-in-hand with a newly installed Italian wood-fire pizza oven that is serving up delicious slices for attendees.
"During the week, we hope to do a pizza night where the carousel is free and families can come out, enjoy a slice of pizza and ride," Bellissimo said. "We really want to engage the community with something that is fun and accessible. We want to work it out so that it's open more often, maybe with special events in the afternoon so families have a place to go."
Exact dates for the pizza nights and other events will be posted online at www.equestriansport.com, Bellissimo said.
The carousel is imported from Italy, made by Bertazzon, one of the oldest and highest-quality manufacturers in the world, he said.
"I've always had a dream of having a carousel on the property," Bellissimo said. "Then, two years ago, my wife and I were in Florence when we saw this beautiful Bertazzon carousel in one of the plazas. There were hundreds of kids and families riding and hanging out around it. We thought it would be perfect to go with the Winter Equestrian Festival."
It will be part of the children's area that springs to life each Saturday night, supplementing the temporary attractions such as the pony rides, bounce houses, petting zoos and other fixtures that are available for families to enjoy each weekend.
"The children's area is going to be bigger this year," Bellissimo said. "We're still going to have live pony rides, but there's just this magical impact that a carousel has on small children and adults, too."
Already it has drummed up some interest.
"People are calling us every day and asking about it," he said. "I think it's going to be a big hit. It's amazing the level of attention it received this past Saturday night. We had hundreds of kids riding it."
Bellissimo hopes the carousel will be a draw that gets families interested in finding out more about the equestrian community.
"I think it will be a great opportunity to have an attraction for people to come out to," he said. "Then, hopefully, they will find out what's out here and continue to explore other areas of the venue."
The attraction is part of Bellissimo's desire to involve the greater community in equestrian sport, he said.
"It's a fun and very unique example of what we're trying to do," he said. "We want to show our dedication to families and young children in Wellington. I hope every child gets a chance to come out and enjoy it."
For more information, visit www.equestriansport.com or call (561) 793-5867.
ABOVE: Mark Bellissimo in front of the new carousel at the Palm Beach International Equestrian Center.