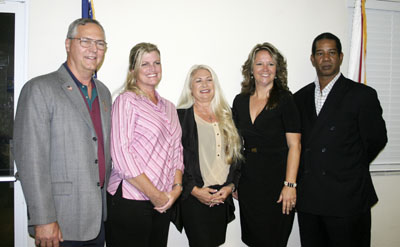 The Indian Trail Improvement District Board of Supervisors decided last week to keep District Administrator Tanya Quickel at her post.
Last month, Quickel offered to negotiate her exit with ITID attorneys after some board members wanted to renegotiate her contract to create a position with less responsibility and authority.
However, the board voted 3-1 at a special meeting Thursday, Jan. 3 to reject Quickel's termination.
At ITID's December board meeting, Supervisor Carol Jacobs recommended that the board take over more responsibility over day-to-day operations of the district, increase the responsibility of the operations/maintenance director and reduce the administrator's responsibilities to that of a manager.
Jacobs had made a motion to fire Quickel that died for lack of a second. When Supervisor Michelle Damone suggested a workshop to discuss a renegotiation of her contract, Quickel said that she would not be open to renegotiation and instead asked to begin the termination proceedings.
At the meeting last week, ITID's human resources attorney, Lara Donlon, said that Quickel and her attorney, Cathleen Scott, had prepared a proposal to terminate Quickel's contract without cause through a negotiated settlement.
"Under that contract, as written, there would normally be a 12-month severance payout of salary along with her vacation leave," Donlon said. "What we have proposed is that if the board is willing to terminate the contract without cause effective today, Ms. Quickel would be willing to accept 10 months instead of 12 months, and she would still have that vacation leave."
Donlon said other options included honoring Quickel's contract as it stood, to terminate her contract with some degree of notice, or to seek termination for cause. Donlon pointed out that termination for cause would require certain procedures, including establishment that infractions had occurred such as commission of a felony or a violation of her contract.
Damone, who had negotiated Quickel's hiring in 2010, said she would oppose the termination of Quickel's contract under the terms proposed.
"I personally don't want Ms. Quickel to leave," Damone said. "She has done an excellent job. Maybe where we have failed is we did not emphasize some of the highlights of her tenure here, but to me, she has not done anything for cause of termination. She has put her terms on the table, and it doesn't look like we agree with those terms, so where do we go from here?"
Supervisor Gary Dunkley said he would also oppose Quickel's leaving but was not happy with the documentation that had been provided to the board. "You're not giving me much choice," Dunkley said. "There's nothing for me to read, and I don't think this is fair."
Supervisor Ralph Bair interjected that he opposed dividing the responsibilities of the district administrator. "That's the reason we went with a district administrator to start with," Bair said.
Jacobs said she has been conflicted about Quickel's working hours since she was hired. "This is a very large district, and we need someone here all the time, not at home or from the car or whatever," Jacobs said.
Jacobs added that she was disturbed that a road in the district had been damaged by a contractor doing canal work. "The road is totally falling apart, and that contractor tore off the sides… It's going to have to be redone," she said.
While she likes Quickel as a person, Jacobs said she is not convinced that Quickel has a firm grasp on the needs of the district. Jacobs was also quite upset about not being given adequate information about what is going on internally at Indian Trail. "I do like Tanya, but I don't know what is going on with this district," she said.
Jacobs said she believes it is the board's responsibility to make sure the district's money is managed responsibly. "I ultimately believe in red flags, and when I can't get a public record as a supervisor, and this has happened to me several times, it's a red flag," she said.
Jacobs added that she was not happy that as a supervisor, she is not allowed to talk to district employees.
"A government agency should be an open book," she said. "All I want to do is the right thing, and Tanya, I don't want to ruin your career. We could have gotten along, but it was like you didn't want to get along, and it started right from the beginning."
Due to a family emergency, Jacobs then had to leave the meeting. "I'm sorry, and I hope you guys can work it all out," she said.
Scott said her main concern was the legal issues regarding Quickel's contract. It was her opinion that there was not sufficient reason to terminate her for cause.
"You can choose to terminate her, in which case you owe her 12 months of severance," she said. "I understand from a fiscal responsibility standpoint why it is frustrating… Ms. Quickel, who is the perpetual professional in this environment, had offered to stay. The day after the meeting, she reached out and said, 'Look, I'm prepared to work this out,' and that's why she made an offer that we view as less than what she is contractually obligated to."
Quickel said it was the suggestion that the operations/maintenance director report directly to the board that led to her offer to negotiate the contract termination.
ITID President Jennifer Hager objected to the terms of the contract. "It's golden pavement in here and golden pavement out of here," she said. "There's no protection for the district."
Damone reminded the board that the district had no fiscal responsibility under the previous two administrators. "I ran on fiscal responsibility," she said. "There was no fiscal responsibility in this building at the time. Our records weren't being managed appropriately. I went after somebody I thought had a major financial background."
Damone pointed out that this was the first year in many that the district has had no comments on its annual audit, and that Quickel has done nothing to warrant termination for cause.
"Because of personality differences? I've got personality differences with everyone in this room," she said. "I'm here to do the business of the district, and the business of the district is to protect taxpayers of the district."
After a recess was called in order for Dunkley to discuss the terms of the contract with Quickel, her attorney and district legal staff, Dunkley said he would support the contract as it stood.
"I have decided to honor Ms. Quickel's contract," Dunkley said. "I am also asking, as a board member, you have to be more transparent in terms of negotiations and in terms of our monies."
Dunkley said he would also like to have an organizational audit conducted of the district's operations.
Damone made the motion to honor Quickel's contract and reject her termination. The motion passed 3-1 with Hager dissenting. She favored continuing with contract termination proceedings.
ABOVE: The Indian Trail Improvement District Board of Supervisors.