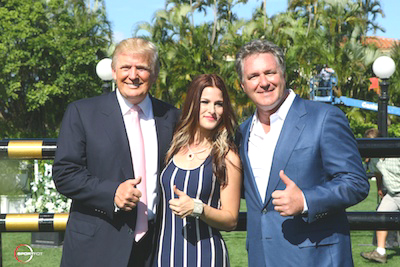 The first-ever $100,000 Trump Invitational Grand Prix CSI 2* debuted to rave reviews on Sunday, Jan. 6 at the Mar-a-Lago Club in Palm Beach.
With some of the world's top show jumpers competing on the lawn of Donald Trump's scenic estate overlooking the Intracoastal Waterway, Kent Farrington jumped to victory in the inaugural class aboard Amalaya Investments' Dynamo.
The Trump Invitational benefits the 2013 FTI Consulting Great Charity Challenge, presented by Fidelity Investments, one of the hallmarks of Equestrian Sport Productions' FTI Consulting Winter Equestrian Festival. The event has raised and distributed more than $2.7 million to local charities over the past three years. In addition to the grand prix competition Jan. 6, a wild card charity was drawn for the Great Charity Challenge, The Voice winner Cassadee Pope performed some of her songs as well as the national anthem, and Olympic dressage duo Tina Konyot and Calecto V performed their winning freestyle exhibition.
"We were thrilled with this successful event," Equestrian Sport Productions CEO Mark Bellissimo said. "The setting couldn't have been more stunning, and the equestrian sport was fantastic. This event was such an amazing combination of sport, entertainment and philanthropy."
During the festivities, a wild card charity was chosen to compete in this year's FTI Great Charity Challenge. Trump performed the random drawing and picked Big Brothers/Big Sisters of Palm Beach County. Following the great success of the live auction (all proceeds going to the charity challenge) for a foursome at the world-famous Trump International Golf Club with Trump, which brought in $34,000 from bidder Nadine Allen and was then matched by the generous support of Mike Smith, concluding at $68,000. Bellissimo added an unexpected draw to benefit another charity. The lucky winner, Horses Healing Hearts, will receive a $25,000 donation rather than being included as a participant of the Great Charity Challenge. Bellissimo also made a $10,000 contribution to Natural High in Cassadee Pope's name, a drug prevention organization that she works closely with, which was then matched by Trump. "We knew that Cassadee took time out of her busy schedule to join us here today, and we wanted to make sure that the charitable giving also helped a cause that is close to her heart," Bellissimo said.
Concluding the spirit of giving of the event, Trump announced that he will be a major contributor of the 2013 Great Charity Challenge by donating $100,000 to the event.
Bellissimo honored the sponsors of the event in a special presentation, during which they were presented with bottles of Veuve Clicquot champagne. Equestrian Sport Productions thanks the Mar-a-Lago Club, Donald and Melania Trump; G&C Farm, Gustavo and Carolina Mirabal; Suncast, Tom and Jeannie Tisbo; Gut Einhaus, Ansgar and Ellen Holtgers; and corporate sponsors Nespresso USA, Celedinas Insurance Group, American Eurocopter, Carol Sollak Realty LLC/Engel & Volkers Wellington, Moet Hennessy, Braman Motorcars and Badgley Mischka.
International course designer Anthony D'Ambrosio set the track for last Sunday's class with 36 entries competing. Four of the horse and rider combinations were able to clear the course without fault to advance to the jump-off, and the over 600 spectators that enjoyed VIP dining in the ringside tents watched an exciting tiebreaker.
Brazil's Rodrigo Pessoa and HH Let's Fly, owned by Double H Farm, were the first pair to clear the course and first to return for the jump-off. The accomplished duo put in another clear performance in the second round and set the pace at 44.31 seconds to eventually place second. Charlie Jayne and Pony Lane Farm's Waldman Z were next to compete, but had one rail down in a time of 44.62 seconds to finish third. Schuyler Riley and M. Michael Meller's Waterloo also had a rail in the jump-off and stopped the clock in 46.97 seconds to place fourth. Last to jump-off, Kent Farrington and Dynamo thrilled the crowd with a fast, clear round almost two seconds faster than Pessoa to take the win in 42.62 seconds.
Last Sunday's class was a kick-off to the 2013 FTI Consulting Winter Equestrian Festival. The 12-week circuit began Wednesday, Jan. 9 and runs through March 31. The Mar-a-Lago Club is the title sponsor of week one competition and presenting sponsor of the $30,000 Mar-a-Lago Club Grand Prix, which will be held Sunday, Jan. 13 at 2 p.m. at the Palm Beach International Equestrian Center.
Another highlight of the week is the $55,000 Nespresso Battle of the Sexes to start the "Saturday Night Lights" series Saturday, Jan. 12, with gates opening at 6 p.m. For more information, visit www.equestriansport.com.
ABOVE: Donald Trump, Cassadee Pope and Mark Bellissimo. Photo courtesy Sportfot