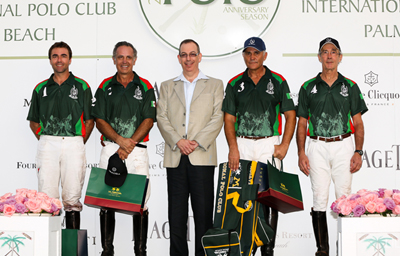 Everyone was out of their seats Sunday, Jan. 13 at the International Polo Club Palm Beach in Wellington as polo legends Carlos and Memo Gracida led their La Herradura polo team to its second consecutive Joe Barry Memorial Cup victory with a 12-11, sudden-death overtime win over the 2012 defending champions Coca-Cola.
The Gracidas are well known in the polo community, with Memo boasting a record 16 United States Open Championship wins, and Carlos being credited with a record 10 British Open Championship victories. Both brothers have been inducted into the Polo Hall of Fame yet continue to compete at polo's highest levels.
La Herradura charged out to an early 4-0 lead in the opening chukker of play before Coca-Cola could respond. A single goal from Coca-Cola's Sugar Erskine ended the chukker with La Herradura defending a 4-1 advantage.
The brakes were put on the offense in the second period, with Memo Gracida being limited to the only goal of the chukker. After two periods of play, La Herradura held a 5-1 lead.
Two more goals from La Herradura in the third period had them ahead by six goals, 7-1, when Coca-Cola finally responded. Scores from American 9-goaler Julio Arellano and Erskine ended the first half with La Herradura on top by four goals, 7-3.
Coca-Cola team captain Gillian Johnston and Arellano opened the second half with single goals, cutting the La Herradura lead to two goals, 7-5. Alberto Fernandez and Carlos Gracida quickly matched their scores, but Coca-Cola's Tommy Collingwood ended the chukker with his first goal of the day. La Herradura continued to lead, 9-6.
Carlos Gracida and Collingwood exchanged the only two goals in the fifth period, and La Herradura continued to protect its three-goal cushion.
Coca-Cola blew the lid off the game in the sixth chukker, outscoring La Herradura 4-1 and tying up the match. Erskine scored three of Coca-Cola's four goals in the chukker, with Johnston accounting for fourth goal. La Herradura was limited to a single goal from Carlos Gracida, and the match was deadlocked at 11-11 when time expired in regulation time.
After a brief recess, both teams returned to the field for the sudden-death overtime period. Play was fast and physical as both teams struggled for control of the ball.
Races up and down the field failed to result in a goal when a Coca-Cola player fouled in the area of their own goal. La Herradura was awarded a penalty hit, which Carlos Gracida converted for the winning goal, 12-11.
Earlier matches that day resulted in wins for Orchard Hill (12-7 over Audi) and Zacara (14-10 over Piaget).
The high-goal polo action takes place every Sunday through April 21 at the International Polo Club. Ticket prices for Sunday polo range from $10 general admission to $120 box seating. Tickets for Sunday brunch at the Pavilion and its reception start at $55, upward to $330 for the Veuve Clicquot brunch package for two.
Tickets can be purchased online at www.internationalpoloclub.com, or by calling (561) 204-5687. Find IPC on Facebook, follow on Twitter at @SundayPolo or visit www.ipcscoreboard.com for up-to-date scores, schedules, rosters and all other polo info.
ABOVE: Dr. Lawrence Weinstein of sponsor Bethesda Health (center) with La Herradura's Jose Donoso, Carlos Gracida, Memo Gracida and Alberto Fernandez. PHOTOGRAPHY BY LILA PHOTO