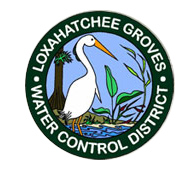 The Loxahatchee Groves Water Control District Board of Supervisors offered former Clewiston City Manager Steve A. McKown a contract as its new district administrator Monday pending a background check.
McKown asked for three days to review the conditions of the contract.
McKown also answered questions regarding allegations about his tenure in Clewiston, including accusations of misuse of his city credit card as well as an investigation by the Florida Department of Law Enforcement regarding an accusation that McKown impersonated a police officer.
Supervisor Don Widing said he had engaged in conceptual contract discussions with McKown as he had been instructed by the board, although he did not have authority to give final approval.
"My direction was to get the framework of a contract to find out what range of salary and benefits may or may not be acceptable," Widing said.
Supervisor John Ryan passed out information that he said was not available when McKown was interviewed Dec. 22.
"At that time, the City of Clewiston had not posted their special meeting minutes of Nov. 26 and Dec. 3," Ryan said. "There were some questions, serious questions, that were raised from those minutes that I was very concerned would not leave us in a position to proceed without a detailed background check and a release for discussions with all the commission members of the City of Clewiston."
Ryan said he was particularly concerned that on Nov. 26, the Clewiston City Commission had terminated McKown for cause. "It referred to several issues and concerns; some were working relationship concerns, some were serious concerns including misuse of a credit card," he said.
The only item of concern that the LGWCD supervisors were aware of before the Dec. 22 workshop was an incident at a bar where McKown had been accused of impersonating a police officer, which the Florida Department of Law Enforcement had decided not to pursue.
"I felt we wouldn't be in a position to proceed without some more detailed investigation," Ryan said.
LGWCD Attorney Mary Viator said Ryan had spoken to her regarding his concerns and did not want to go through the additional expense of a background check without board approval.
Human resources attorney Lara Donlon suggested they make an offer pending the background check, but Ryan said that he was concerned about the action taken by the Clewiston commission.
"When you have three commission members who voted for cause termination and listed four or five areas of concern, without a release to have full and frank discussions with these people as part of a background check, I don't want just a criminal record check, but a judgment in different jurisdictions check," Ryan said. "This background check to me in light of the minutes is a serious consideration."
Ryan pointed out that there was a settlement stipulation that neither McKown nor commissioners would make disparaging remarks, and said he would like a release from McKown to have frank discussions with the Clewiston commissioners.
"It wasn't a unanimous vote, but I think that background check should include factual discussions with each one of those commission members as part of our consideration," Ryan said. "If we don't have a release to do that, if that separation agreement is a barrier, I'd just as soon we go to alternate number one tonight."
Supervisor Frank Schiola agreed with Ryan because he had also gone through the minutes of the Clewiston commission. "We need to go ahead and investigate these before we think about making a job offer," Schiola said.
Chairman David DeMarois said the fact that the allegations were in the Clewiston commission minutes does not make them factual. "It doesn't mean any accusations made against the man have been proven," DeMarois said. "There was just an agreement that they decided to part ways."
Ryan added that upon reviewing the proposed contract of an $84,000 base salary (about $89,000 with benefits including health, auto and phone allowances), he thought the terms were beyond what he was prepared to offer. "The combination of those factors pretty much in my mind said let's be sure we don't lose touch with the second and third alternates, regardless of what we do tonight," Ryan said.
Widing pointed out that McKown had been asked about the FDLE investigation and he said it had decided not to proceed with any charges. "I'm not trying to overly defend Mr. McKown, other than I understand the public arena, and I know how things can get sometimes," Widing said. "If we're going to be here in a public meeting talking about something that may influence his career and his livelihood, if he's here and he wants to speak about that, I would honor that request."
McKown said there had been a great deal of political discord on the Clewiston commission for some time.
"That did present problems, and it was with a lady that has been on our commission for many years," he said. "She has been mayor for over 10 years. The current commission that I went to work for, when they decided it was time to move on, have a new mayor, that's when the stuff started."
He said the conflicts had been going on for about a year and a half before the commission terminated him in a split decision.
McKown said he had no problem with the supervisors investigating the circumstances further. "Fortunately, the city attorney is in the same office with Ms. Viator, and I encourage them to have a conversation because Charlie Schoech was at every meeting that you have those minutes of," he said.
McKown said his termination was more of a reflection of the election that had just taken place.
"Please understand this, I did not have three city commissioners who I worked with for three years suddenly decide to terminate me," he said, explaining that a new commissioner took the dais after the recent Clewiston election. "I worked for him for 24 minutes; that was it. He was elected, he came to the meeting, and he voted to terminate me."
McKown characterized his termination as the culmination of a year-long witch hunt. "I have absolutely nothing to hide, and I have no problem with anyone asking any questions of anyone," he said.
McKown added that allegations about credit-card misuse had been dropped after a $3,000 investigation found he owed nothing to the city, and allegations that he was not a good communicator came from the former mayor who had been trying to get him terminated.
After more discussion about specifics of the contract, the board asked whether McKown would agree to an offer of an $84,000 base salary, about $89,000 with benefits. After a short recess, Donlon told the board that McKown would like several days to review the proposal.
Supervisor Robert Snowball made a motion to authorize staff to conduct a background check on McKown, which carried 4-1, with Ryan opposed.