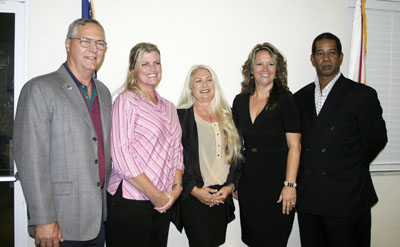 The Indian Trail Improvement District enters 2013 with new officers and a new board member who aims to be an independent thinker with the goal of making the district more open to Acreage residents.
Supervisor Gary Dunkley was elected in November, replacing former Supervisor Carlos Enriquez.
"My thoughts are simple — for people to be able to have a better voice in their local government," Dunkley told the Town-Crier.
He also wants to work on projects that will help residents' property values increase and to give them a sense of security when the major storm occurs. That means finding out why the flooding from Tropical Storm Isaac was so severe, Dunkley said.
"I was stuck in my house for seven days, and up to this point, I still have no answers," he said. "I just want, really, an open government where the people can have an idea of what we're doing and what direction we're going."
Dunkley stressed that he is an independent thinker and has not "taken sides" for or against anyone on the board. "I just want people to be able to voice what their opinions are and let them be heard," he said.
This will require more outreach on the part of ITID, Dunkley said. "Because we are working people and not able to participate doesn't mean we don't care about our neighborhood," he said. "This is why one of the things that is very important to me is an informative web site that shows the projects we're doing, the direction we're going, and suggestions the public would like to make. I would also like a newsletter… There are 40,000 people in The Acreage and less than 10 percent get involved in the local politics."
Dunkley said he himself works, supports his college-age children and also spends a lot of time maintaining his land and his horses. Nevertheless, he felt the need to make a public commitment.
As the newly appointed ITID treasurer, Dunkley has been meeting with the district's accountant to get a better understanding of the finances.
Major changes are ahead for ITID's day-to-day leadership. Director of Operations Anthony Las Casas has already left, and District Administrator Tanya Quickel and Finance Director Emily Poundstone might also be leaving their posts. Dunkley said he would rather refrain from commenting on what to do to remedy the personnel situation until after a special meeting scheduled for Thursday, Jan. 3, which took place after the Town-Crier went to press.
"Everything hit me a half-hour after I got sworn in," Dunkley said. "I try to keep an open mind. I didn't run with any hidden agendas, just for people to have more voice in their local government."
Supervisor Michelle Damone, who was replaced as ITID president last month, said she wants to keep sight of grants that have been awarded and might be available for the Acreage Community Park community center, and to take advantage of increased drainage opportunities that should be available with the attention drawn by Tropical Storm Isaac.
"My No. 1 priority moving into 2013 is to grab hold of all the drainage opportunities that will be given to Indian Trail due to Tropical Storm Isaac and Gov. [Rick] Scott's attention," Damone said. "There are lots of opportunities around us, and I just hope that this board doesn't let go of any of them."
The board approved a contractor for the community center early last year, but postponed the plans after the storm. Grant money for the project will expire if not used.
"We've already received a $200,000 grant," she said. "We have an opportunity to receive a $500,000 grant, and on behalf of the community, I don't want to see us miss that opportunity. I fully believe that we can still receive our drainage improvements and still be able to provide the community center."
Supervisor Ralph Bair said he hopes to resolve conflicts that have arisen on the board and make progress in 2013. He expressed reservations about changes in the management process advocated by ITID Vice President Carol Jacobs, who wants the administrator's responsibility reduced to a managerial position and to have the operations manager report directly to the board.
"I guess the way it is going to be is the board makes the final decisions on what gets done in the district," Bair said. "In other words, we'll have to work through every nook and cranny of the work package and how the money is spent. I'd rather not do it that way because you're going to have department heads fighting for money. Who's going to decide who gets it if you have no overall person?"
Bair said he thinks such a change would lead to too much board interference in the day-to-day operation of the district. He noted that a non-interference policy was in Quickel's contract but would no longer be in place should she leave.
Bair also wondered who would speak for the district at public meetings across the county, such as before the Palm Beach County Commission or at regional planning meetings. He pointed out that new ITID President Jennifer Hager is a teacher and cannot easily take off time during the day. "She's not going to be able to do that," Bair said.
He added that his other hopes for the coming year include getting the community center built and finishing up the funded portions of Acreage Community Park's southern expansion.
"If we don't put up that building, we're going to lose close to $2 million in grants and funding that we would have to upgrade the building and finish the south part of the park," Bair said. "A lot of the money will be lost, gone, because we applied for all these grants and if we don't build the building, we don't get the grants."
ITID is also working to get at least partial refunds from the Federal Emergency Management Agency for as much as $1.8 million spent on road repairs after the flooding from Isaac.
"FEMA is working on it through the district administrator we have right now," he said. "The problem is, if she leaves, we lose a whole lot of coordination that we had with other governmental agencies from the local level to the county level to the state level to the federal level because she knows what's going on, and she has been personally involved as our representative."
Attempts to contact Hager and Jacobs for this article were unsuccessful.
ABOVE: The current ITID board: (L-R) Ralph Bair, Jennifer Hager, Carol Jacobs, Michelle Damone and Gary Dunkley.