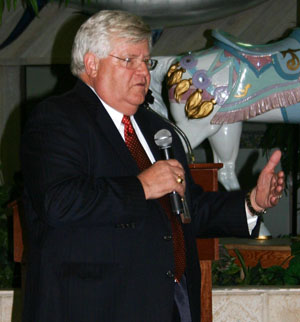 Officials from the Palm Beach County School District and the Palm Beach County Sheriff's Office spoke on gun issues at last week's public forum meeting hosted by County Commissioner Jess Santamaria at the original Wellington Mall.
"We're very active at the sheriff's office," PBSO Chief Deputy Mike Gauger said at the Jan. 16 meeting. "We have a firearms forensic lab. We do a lot of work with firearms."
Gauger said that his and other officers' personal feelings about firearms had no bearing on their enforcement of gun laws. "We are given a set of laws by the county, the state and the federal government," he said. "We enforce those laws fairly and equally with parity for everyone."
More people are killed with firearms in the United States than in any other country in the world, Gauger noted. "We also have more people in prison than any other country in the world," he said. "In our armed services, sadly, in the past year they have lost more servicemen by suicide than they have in armed conflict, and the majority of them were with weapons."
Gun issues are more of a societal problem than guns or gun laws, he said.
"We're all aware of Sandy Hook," Gauger said. "What happened at Sandy Hook? A young man suffering from mental illness walked into a school with weapons and started shooting children and teachers."
The weapons came from the man's mother, who had purchased several weapons and left them in her home accessible to her son. "This happens all the time," he said. "I said it's a community issue, it's a society issue. Mental health issues are present in a lot of the folks who are these active shooters."
Gauger said there was a disconnect with reality during the Reagan era when many mental institutions were closed and the patients released. "They were going to transfer all those folks from those centers and send them to the community, where they were going to provide all this funding so they could be treated," he said. "It worked the first year, and after that year they de-funded those programs every year, including right up to this year."
Gauger pointed out that the state government currently wants to take away financing for psychotropic medications for those who are bipolar, manic depressive or have aggressive backgrounds, adding that such people are involved with many of the shootings the sheriff's office handles.
"A family came forward about a week ago and said, 'We're suing the sheriff; they shot our child,'" he said, pointing out that shortly before the child was shot, the mother had stopped giving him drugs that reduced hostility and aggressiveness. "This is happening all around, and those with access to firearms are not being reported, not in the system, where they are not allowed to have or purchase firearms."
Possession of firearms by gang members is a big issue locally, Gauger said, pointing out that PBSO confiscated between 600 and 700 guns from gang members in the past eight years.
"We have dismantled the gangs that are doing all the shootings," he said. "Our gang-related homicides are way down, but our domestic homicides are up, though. It's a family issue, and that's where it all starts. Parents, know where your guns are."
Corp. Mike Johnson, a firearms expert with the PBSO, said gun laws apply to police officers as they do to anyone else. "I've been a law enforcement officer for almost 40 years," he said. "Up until I got my concealed weapons permit, every time I went to buy a gun, I had to go through a background check, and I had to wait five days. I'd walk into a store in my uniform wearing my gun, but I'd still have to wait five days. There are laws in place that keep guns out of the wrong hands."
Johnson noted that those precluded from buying a firearm include anyone with a history of mental illness or domestic violence. He said the biggest problem is with those who buy firearms but don't secure them.
The PBSO and federal officers regularly monitor gun shows for illegal sales, and those caught violating gun sale laws are not only arrested but also must forfeit guns in their possession, he said.
Gauger said the PBSO is developing a community-driven program that allows residents to call and report families in which they think that someone has a mental condition that should prevent them from having access to firearms.
He added that while the county jail population has decreased from 3,400 to 2,400 in recent years, spending on the PBSO's mental health unit has increased by 40 to 50 percent because the state and federal governments have cut financing almost to nothing for such programs.
Palm Beach County School District Police Commander Eli Cano said the school district has prepared a countywide safety plan in response to the Sandy Hook shooting. There was already a safety plan in place. This most recent episode has challenged the district to revisit the plan and improve upon it, he said.
Communication with students and parents was listed as a top concern. "A lot of questions have been asked since last month's tragedy," he said. "A lot of those questions we can't answer."
He said that students need a safe environment to be successful. "We communicate that to them and let them know we're going to be there," Cano said.
After Sandy Hook, the number of calls to the school police to report the possibility of shootings increased dramatically, Cano said. "We had to respond to these, so we reached out to the sheriff's office, we reached out to Delray, Boca, Jupiter, every jurisdiction in the county."
With the help of other departments, they were able to address the calls that were coming in, Cano said.
The school district also has conducted a countywide security and facility review to see where each school stands, he said. Things being considered include optimal placement of camera monitors, how entries are set up and fencing conditions. All schools will now have a police aide at the entrance to register anyone coming on campus.
Each school's crisis plan is also being reviewed. "Every school has a crisis plan where every employee knows what he or she has to do," he said. "We're revisiting that. We're making sure that everybody has a clear understanding of what is to be done."
Additional counseling has also been provided for teaching staff and students. "We have to be there for them," Cano said. "Even though it happened up in Connecticut, we had a lot of people here affected. We had a lot of teachers in tears and students who didn't want to come to school. It's my job and responsibility to make sure that these people, when they do return, are going to be safe."
ABOVE: PBSO Chief Deputy Mike Gauger discusses gun issues at a public forum in Wellington last week.