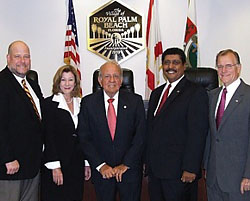 The Royal Palm Beach Village Council approved a median entry sign for the Cypress Head community last week.
The sign will be built by village staff on Cypress Head Avenue, and measures will be taken so it is not placed where it might have to be destroyed by future development at the adjoining Cypress Key mixed-use development.
Cypress Head, off Southern Blvd. east of the Crestwood Square shopping center, was supposed to have an entry sign built by the Cypress Key developer, but economic conditions stalled the project, which has remained unfinished for years. Meanwhile, Cypress Head has remained without an entry sign.
Residents of Cypress Head petitioned the council in November for a median sign.
Public Works Director Paul Webster presented several options, with cost estimates for a median sign or a wall sign built in-house or by a contractor.
Cypress Head Avenue is currently right-in, right-out and left-in, left-out, but the approval for the future Cypress Key development would change that to right-in and right-out only, Webster said.
"The options we have looked at is an entry sign in the median of Cypress Head Avenue, and a sign on the wall at the northeast corner at Southern Blvd. and Cypress Head Avenue, or no additional sign," Webster said.
The estimated cost for the median sign with contracted labor would be about $28,000, or less than $12,500 if done in-house, Webster said. The cost for a wall sign would be about $16,300 for contracted labor and about $8,400 in-house.
Webster said the staff recommendation was for a wall sign using in-house labor, and to work with the developer of the adjacent property to build entry signs that identify both properties.
Mayor Matty Mattioli pointed out that the wall sign would be visible only to drivers traveling east but that the median sign would create another problem in that it would be in jeopardy of having to be removed when new construction begins.
"I have no problem with the wall sign, but I don't know what the residents have to say about this," Mattioli said. "Do the neighbors know what's going on? Are they satisfied with the wall sign? If they are, I am. Let's do it."
Webster said the original petition had requested a median sign.
Mattioli said that one day, the adjacent property would be developed and they could negotiate a median sign.
"In the meantime, they have something, [which is] better than nothing," he said.
Councilman Richard Valuntas, who lives in the Cypress Head community, said most of the residents he had spoken with preferred a median sign, but he agreed with the reduced cost of the wall sign.
"Cheaper is better, although there is a big concern, you're definitely not going to see it if you're heading westbound on Southern Blvd.," Valuntas said. "In my mind, it definitely has to be done in-house."
Vice Mayor Fred Pinto said he would prefer the median sign, but he was concerned that it would be money wasted if the developer wanted something else there.
Valuntas said the developer would have no say what goes there since Cypress Head Avenue is a public right of way. "My understanding is that if we put the sign up in our right-of-way, we can do it," he said.
Village Manager Ray Liggins confirmed that Cypress Head Avenue is a public right-of-way. "We would put it in the median where it would have the least probability of being in the way of construction," Liggins said. "Once it's there, we can make the developer deal with it when he comes in."
Liggins pointed out that the Cypress Head Avenue entrance would also be a shared entrance with Cypress Key.
Councilman Jeff Hmara said he thought the median sign made more sense, noting that under the current development approval, Cypress Key would also have a western entrance that could have its own sign.
Councilwoman Martha Webster said she understood that a wall sign would not be readily visible by westbound drivers but pointed out that the Cypress Key property is currently under litigation that might be resolved soon. "If a developer comes in there, then it's going to be an amazing [transformation]," she said. "They would replace it with something you would be much happier with, because it would be superior to an in-house sign, although we do wonderful work… You have waited so long now, maybe with a little more patience you might have a better one."
Cypress Head resident Rene Berlingeri, who submitted the petition in November, said he understood paying less for a sign but questioned its effectiveness. "We put the sign on the wall, you only see it one way," Berlingeri said.
Liggins said there was a risk for a median sign in that a new developer might want to change his plan to make Cypress Head Blvd. the main entrance to Cypress Key. However, any changes to the development plan would have to come to the council, he said.
Valuntas made a motion to approve a staff-made median sign, placed where it would not need to be demolished due to future construction. The motion carried 5-0.