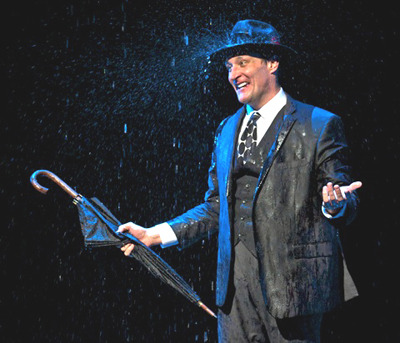 Grab your raincoat and head to the Maltz Jupiter Theatre for an iconic MGM classic musical that is sure to leave you happy again! The fast-paced, beloved romantic comedy Singin' in the Rain bursts onto the theater's stage Jan. 8-27. Overflowing with splashy song-and-dance numbers, this high-energy musical extravaganza features glorious songs such as "Good Morning" and "Make 'Em Laugh," as well as the show-stopping title number "Singin' in the Rain," complete with an onstage rainstorm.
"This is the first time in the Maltz Jupiter Theatre's history that we are creating a full rainstorm onstage, and the effects will be dazzling," said Andrew Kato, the theater's producing artistic director. "We are delighted to be bringing such a magical musical to life, right here in Jupiter."
Theater patrons who are seated in the first four rows (the designated "splash zone") will be given complimentary ponchos prior to each performance to protect their clothing from the possibility of being splashed.
This year marks the 60th anniversary of the classic MGM film that inspired the musical. Singin' in the Rain follows silent movie star Don Lockwood who has everything he could ever want: fame, adulation and even a well-publicized romance with his co-star Lina Lamont. But hilarity ensues when a new kind of film alters everything: the kind of film where actors talk, sing… and even dance!
"I have directed this show six times before, but I have never had the opportunity to produce it exactly as I wanted," said director and choreographer Marc Robin, who last directed the Carbonell-nominated musical The Sound of Music at the Maltz Jupiter Theatre. "I am so excited because for the first time, I have the ability to spread the rain effect over the entire stage, not to mention having the absolute best cast a director could ask for."
The golden age of movie musicals comes alive with an eight-piece orchestra, as well as the debut of three black-and-white mini-films, seen in the creation stages and also screened onstage as part of the musical.
This production stars Curt Dale Clark as Don Lockwood (Sunset Boulevard, Hairspray, Chitty Chitty Bang Bang, Spamalot), Lauren Blackman as Kathy Seldon (Off-Broadway: A Tree Grows in Brooklyn, Next Thing You Know), Brian Shepard as Cosmo Brown (Broadway: Follies, Guys and Dolls, Young Frankenstein, Spamalot) and Emily Stockdale as Lina Lamont (Geva Theater, NY Philharmonic's Company).
Singin' in the Rain is produced as a co-production with the Fulton Theatre in Lancaster, Pa.
Singin' in the Rain is sponsored by the John McDonald Company and California Closets. Tickets are now on sale for the Maltz Jupiter Theatre's entire 10th anniversary season. For a complete schedule and tickets, call (561) 575-2223 or visit www.jupitertheatre.org.
Now celebrating its 10th season, the not-for-profit Maltz Jupiter Theatre has become one of Florida's preeminent professional theaters, committed to production and education through its collaborations with local and national artists. Currently the state's largest award-winning regional theatre, the theater draws more than 70,000 people annually, serves a subscription base of more than 7,530 and has world-class classroom facilities in support of its Paul and Sandra Goldner Conservatory of Performing Arts, which serves hundreds of youth and adults. The Maltz Jupiter Theatre is a member of the prestigious League of Resident Theatres and has earned numerous Carbonell Awards, South Florida's highest honor for artistic excellence, including the prestigious Bill Von Maurer Award for Theatrical Excellence in 2012.
For more information about the Maltz Jupiter Theatre's upcoming shows and Conservatory, visit www.jupitertheatre.org or call the box office at (561) 575-2223.
ABOVE: Curt Dale Clark in a production still from Singin' in the Rain. Photo courtesy Urdaneta Photography