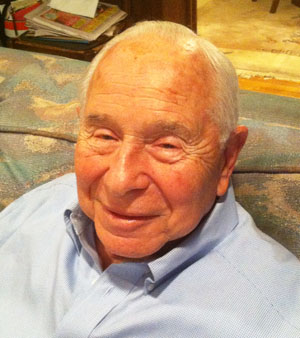 FOOTLOOSE AND…
It was 1950, and I had just started my first job after college as a fledgling sports reporter for the Nassau Daily Review-Star. "Go to the United States Open Tennis Championships in Forest Hills, and get me a feature story for tomorrow's paper," instructed Sports Editor Bob Stirrat.
Puzzled by what to pick for a feature story, I mused in the press box for a while, until a fellow scribe suggested, "Do a piece on Art Larsen. He's good for 10 features every day."
Larsen, a highly talented southpaw tennis player who ranked in the top 10, was a guy I had never met, so I asked why. "You will find out," my friend replied.
After Larsen's victorious match that day, I followed him into the clubhouse and asked for an interview. "Sure kid," he said. "Fire away."
I don't remember the first question, but it wasn't being answered since Larsen was conducting a conversation with someone, or something, over his left shoulder that was… invisible! After a short but evidently heated discussion with his imaginary partner, we resumed our interview. The interview was spiced by two other Larsen flights of fancy over his left shoulder.
It turned out that Larsen, the top-ranked men's player in the United States and ranked No. 1, had a series of foibles headed by an imaginary eagle which seemingly, much of the time, followed his left shoulder.
Before we dismiss him entirely as a quirky "nut job," keep in mind that Larsen was also the conqueror of the United States Indoor, United States Hard Court and the United States Clay Court championships.
Larsen was a heavy smoker, heavy drinker and heavy partygoer. Yet despite his disdain for training, he was a complete tennis player with excellent serve, fine ground strokes, terrific foot speed and great hands at the net.
In November 1956, Larsen lost control of his motorbike on a major California highway. The results were partial paralysis and the loss of his left eye. Following a three-week coma, many of his buddies from the tennis circuit, including champions Don Budge and Dick Savitt, held a benefit match to pay his medical bills.
After all is said and done, my first professional interview was a lulu. But think what you will; whenever Art Larsen came to New York for the U.S Championships he always came to the press box to say hello. He must have liked the feature I wrote.