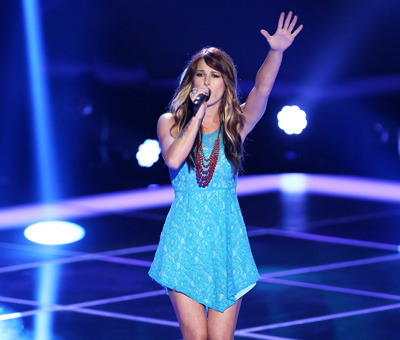 Mark Bellissimo of Equestrian Sport Productions has announced that Wellington's Cassadee Pope, winner of NBC's The Voice, will perform at the Trump Invitational Grand Prix on Sunday, Jan. 6 at the Mar-a-Lago Club in Palm Beach. During the internationally rated show jumping event, $100,000 in prize money will be presented to the riders.
Pope will help give back to the community by performing at the event, which benefits the FTI Consulting Great Charity Challenge. The Great Charity Challenge raises and distributes more than $1 million to local charities. Pope will sing to open the festivities as well as perform the event's national anthem before the start of competition.
"After her well-deserved win on The Voice, Cassadee's popularity has skyrocketed," Bellissimo said. "Despite great demands for her time, she chose to support her local community and to support the FTI Great Charity Challenge event. It speaks volumes of her character. An amazing talent, we are very proud of her accomplishments and excited to have her at the Trump Invitational. We can't wait to hear her sing in person."
Pope is a graduate of Wellington High School, a member of the 2012 Great Charity Challenge first-place charity (Wellington PTO/PTAs), which received $150,000 distributed to Wellington's 12 public schools.
"Wellington and the Palm Beach County community have been so supportive of me and this is an opportunity to give back to the charities in the area," Pope said. "It means a great deal to me, and I'm looking forward to contributing to the event."
The Great Charity Challenge raises and distributes over $1 million annually for 32 lucky Palm Beach County charities in a pro-am team equestrian competition, taking place this year on Jan. 26 at the Palm Beach International Equestrian Center in Wellington.
The event was founded by Bellissimo and his daughter Paige, and has raised and distributed over $2.7 million over the last three years. The event is targeting to raise $1.3 million this year, making a total contribution of $4 million to 68 charities in its four-year history.
Mar-a-Lago, the former Marjorie Merriweather Post Estate purchased and restored by Donald Trump in 1985, is one of the most spectacular mansions in the world and in the national register of historic places and a designated U.S National Landmark.
The $100,000 Trump Invitational will be the first-ever equestrian event held on Palm Beach island and will serve as an exciting kickoff to the 2013 FTI Consulting Winter Equestrian Festival, the 12-week circuit that runs at the Palm Beach International Equestrian Center from Jan. 9 through March 31.
To purchase charity tables at the event, e-mail Anne Caroline Valtin at annecaroline@equestriansport.com.
More on the 2013 FTI Great Charity Challenge, including sponsor and charity information, can be found at www.ftigreatcharitychallenge.com and the FTI Consulting Great Charity Challenge Facebook page.
ABOVE: Cassadee Pope performs on an episode of The Voice last fall. Photo Courtesy NBCUniversal