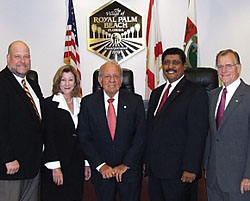 Royal Palm Beach officials hope that 2013 will be a year of investing in the village's future by laying out plans and making improvements that will benefit residents for years to come.
Early in the year, the village will cut the ribbon on the eagerly awaited Royal Palm Beach Commons Park, but discussion is expected on other facets of the site, from a dog park to an assisted-living facility.
Members of the Royal Palm Beach Village Council also plan to lay out a 15-year strategic plan for the community that will act as a road map for future projects and decisions.
After nearly a year of delays, Commons Park is finally expected to be complete in late January.
"We're planning a grand opening in March," Village Manager Ray Liggins said. "Then we plan to have about four events a year out there — our Fourth of July celebration, then something in the fall, winter and spring."
Councilman Jeff Hmara looks forward to seeing the park finally in use.
"We're all very excited about the possibilities at the park," he said. "But we're also frustrated with what has taken a very long time. Once it gets done, we'll be able to begin to understand how to best utilize that facility. I see it being a community centerpiece to pull us together more often in a large area where we can share the facility as a community."
Discussion of the park's expansion is expected to ramp up, with plans for the dog park and a decision on whether to include an assisted-living facility being two key issues.
"The council already agreed to do [a dog park]," Hmara said. "It will just be a matter of what it will look like and when we'll begin to build it."
Liggins said the money is there, and the council seems to have given the green light on the project.
"It's already in the budget to fund it for up to $60,000," he said. "The design will need approval, and then it will go out to bid. I expect it to be finished by the end of the year."
Liggins also expects council members to discuss a senior living complex at the front of the park.
"It will probably be discussion more than anything else," he said. "Most likely, we'll see a senior housing ordinance to create a zoning category for independent assisted-living facilities."
Hmara noted that a study done by the village listed senior housing as an issue the council should address. "I think that's something we need to look at every year until we begin to move forward with that initiative," he said.
The village will be looking toward residents as it crafts its 15-year strategic plan, Hmara said.
"It's going to give us a 15-year perspective on where we're going as a village," he said. "We're planning to put together a citizens summit sometime in March or early April to get resident input and give them a chance to see the ideas we have put together. I don't know if the village has ever done anything like this before, but I think it's a really great idea."
Vice Mayor Fred Pinto said he is glad Royal Palm Beach is taking a pro-active stance.
"We'll have a game plan and strategy of what we want to do in the next five years," he said. "We had gotten trapped in the economic downturn where we were looking at things year by year. Now we'll know what goals we want to achieve, and then we can review them and stay on plan."
Hmara expects part of that discussion to include what to do with the money Royal Palm Beach made in selling the village's water utility to the county in 2006.
For four years, the money was invested, giving the village great returns. Since then, officials have used some of the money to keep the village operating in economic hard times.
"We need to be sure we fully understand the options available to us going forward," Hmara said. "This money has served us well in servicing the debt on Commons Park and as a supplemental revenue stream. We need to ask ourselves, 'Is this an appropriate use of those funds, or do we want to do something different?'"
Also involved in the discussion will be plans for the former stormwater treatment plant site off Crestwood Blvd. "I think it's probably time to take that down off the shelf and look at it," Hmara said. "We want to do what's in the best interest of the community as far as the land use is concerned, especially in light of what seems to be the economy picking up a little speed in the right direction."
Liggins said he expects the council to discuss land use changes for the site. "I don't see anything happening on the property this year, but I think they will discuss the land use," he said.
Pinto said residents will continue to push to keep the property compatible with the area. "I don't want to see something there that isn't compatible with the surrounding area," he said. "We heard residents' voices very clearly about that."
This year, Pinto said he expects Royal Palm Beach to be in a better financial position.
"The last three years, in terms of revenue, we've been taking in less and more has been going out," he said. "This year, we expect the trend to reverse. We think the revenue will be greater."
Liggins agreed. "I think we've already bottomed out on tax revenues," he said. "We have more activity on nonresidential property. I think it will be slow, but I think it is improving."
All in all, officials hope to continue to make Royal Palm Beach a great community. "I think Royal Palm is in a great position for the future," Hmara said.
Pinto agreed. "I am looking forward to continuing to keep it a place where people want to come, settle down and raise families," he said.