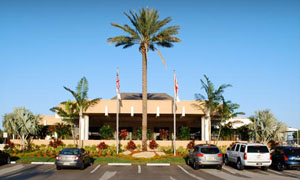 It appears that the Wellington Tennis Center will be moving to a new home. Members of the Wellington Village Council largely agreed at a workshop Wednesday that the facility should have a site of its own where it can meet the needs of the tennis-playing community.
Though no official vote was cast, council members are expected to make an official decision at a meeting Jan. 22.
At the workshop, Village Manager Paul Schofield said that before other major decisions could be made about the rebuilding of the Wellington Community Center, council members would have to decide what to do about the tennis center, which occupies part of the building.
"That is the first decision you have to make," he said.
Council members asked Wellington tennis pro Tommy Cheatham to weigh in on whether members were in favor of moving.
"It's a bit of both," he said. "People are in favor of moving it if there will be additional courts. We have a court issue, especially in the mornings. If there are more courts at the new facility, I think people will be in favor. If not, I don't think it really matters."
Director of Operations Jim Barnes said that a new facility would have about five extra courts.
Wellington Mayor Bob Margolis asked whether that would mean more opportunities for tournaments and other revenue sources. Cheatham said it would.
"It will give us a lot more opportunity," he said. "We're turning people away because we just don't have the space."
Cheatham also said that the initial plans for a new center included an underground watering system for the courts, which could save Wellington a substantial amount.
"I think it would cut your budget at least in half, if not more — even with more courts," he said. "The underground watering has no maintenance at all."
The clay courts — of which there are only a few in the entire county — must be resurfaced every four to five years, Cheatham said. But Wellington's have not been done in more than a decade.
Councilwoman Anne Gerwig asked how many of the tennis center players are Wellington residents. "This is taxpayer money we're talking about," she noted.
Cheatham estimated that 98 percent of his players are also residents, but Gerwig said she would like to see some evidence to support that.
Margolis asked whether it would be beneficial for the facility to have other areas, such as a snack bar, for players to use. Cheatham said it would be a good idea.
He asked that whatever the council chooses to do, it not interrupt play too much.
"If tennis stays where it is and you start tearing that building down, it could be a problem," he said. "We went through [the municipal complex] being built, and that was horrible. This would be right on top of us."
Vice Mayor Howard Coates asked Cheatham whether he felt constrained in growing the programs at the tennis center because of space.
"If you had more courts, would you be able to expand the programming?" he asked.
Cheatham said he is currently very constrained. "We just don't have room for more teams or anything," he said.
Coates then asked whether there was a demand for it.
"No doubt," Cheatham said.
Coates asked Cheatham about his preference: stay or move?
Cheatham said it would depend. "If you are going to move it and keep the facility at only 16 courts, I'd rather we stay," he said. "But if you're going to add courts, I'd rather move it."
Margolis said that he would support moving the tennis center.
"I think it will be a win-win situation," he said. "I think the additional parking and possible benefits of other things being added on that site will be beneficial."
Councilman John Greene also said he would support moving it, noting that it would allow Wellington to further expand the community center.
"There are so many opportunities to open up the space and take advantage of that lake," he said.
Gerwig said she needed a bit more information about the tennis center and other similar facilities in the area but noted that she was not necessarily opposed to moving the site.
Coates said that council members seemed to agree on moving it, but the question of where would require discussion. "Is there consensus on where we would do this?" he asked. "I think that's the next step."
There are several sites that could host the tennis center, Schofield said.
Among them is village-owned property on Lyons Road, a 10-acre site near the Mall at Wellington Green and the K-Park property on State Road 7. Another location could be the current Wellington Boys & Girls Club site on South Shore Blvd., which will be vacated when the club's new facility opens later this year.
Coates said he didn't want K-Park to be a site for only tennis.
"I think that site is for a greater community use," he said. "If you draft plans, I'd like to see something more than tennis on there."
Schofield said he would bring the discussion back at the next meeting for more direction and possibly a decision.
ABOVE: The current Wellington Community Center.