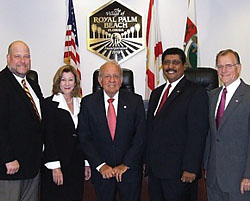 A vision has been crafted for the future of Royal Palm Beach, and residents will have an opportunity to weigh in this spring.
Two months after council members had a chance to provide input on the new strategic plan, a draft proposal has been created.
The draft is a result of a workshop held in November with village staff and officials in an effort to lay out plans to execute RPB's goals in the next five, 10 and 15 years.
The agreed upon theme was an overall vision to maintain a premier residential community with a hometown feeling, ideal for families — beautiful, safe, convenient and enjoyable.
Vice Mayor Fred Pinto said that synopsis accurately reveals what he feels the vision should be.
"I don't view our village to be in any kind of contest with other cities in the surrounding area," Pinto said. "I don't care what the other cities are doing. All I care about is trying to maintain the life that we have here in the Village of Royal Palm Beach."
Pinto said his position is based on consistent input he has received in his nearly 10 years on the council.
"It's what the citizens want," he said. "They don't want to see things changing and growing and expanding. They want to see it kept quiet. They want to see the parks that we've been providing for them to be kept up and in good shape."
There are some who feel that Royal Palm Beach needs to attract more commerce.
"I don't see that," Pinto said. "We don't have that much left in the village that's zoned for commercial or light commercial. I'm not interested in going out, rezoning and changing residential land to be zoned for commercial. I don't, quite frankly, see how that's going to improve the quality of life for the people who live here. It's a quiet village. I want to keep it that way. I'm not looking for any extraordinary growth or expansion."
Pinto said he found the process of drafting the vision interesting because it referred to the village's future in terms of what it has accomplished.
"For the last 17 years, we've lowered taxes or haven't raised them," he said. "We've positioned ourselves as one of the top municipalities in the county. We were very well positioned to withstand the downturn in the economy and the downturn in revenues, without having to take any drastic action in reducing services. We continue to do what we've been doing."
Pinto said he looks forward to hearing residents' views on the process.
Mayor Matty Mattioli said a citizens' input meeting is tentatively scheduled for April 11.
"I thought [the report] was very meaningful. We needed to set a course," Mattioli said. "If you're going to sail a ship, you have to know where it's going. I had no complaints with things that we're hoping to do, things that are being done and things that are started."
His primary concerns include the village being 95 percent built out.
"There's a little room for commercial [development], but residential development is practically done," Mattioli said. "So, I think our emphasis [will be to] keep it the way we have it, and make it a desirable community for anyone who wants to live here. And to keep the taxes low, which is my platform and always will be my platform."
Mattioli noted that the village's existing five-year capital improvement plan already covers a lot of what is in the visioning report.
"Things that we have done, like Commons Park, are coming to completion," he said. "We also had the canal assessment and development projects, the State Road 7 extension and storm water management. Financial policies, we'll always be talking about the reserves, and I always say if you don't need it, you don't spend it."
One focus, Mattioli said, is that aging stores and vacant commercial centers need to be evaluated and kept up to code. "We need to keep an eye on our schools and make sure that they are going in the right direction," he said. "Then we have the new skate park that's coming in. I don't know if it'll happen this year. I think we'll [discuss] the water treatment plant [property] later this year. I don't know where that's going to go."
The decision by Aldi grocery stores to locate a regional distribution center in the village will have a major economic impact, he said.
"I always said that the small businessmen would benefit from it, because they need supplies and stuff to operate their businesses," Mattioli said. "It's a two-way thing, not only for us but for them. People need to live somewhere, and I hope they'll stay in Royal Palm Beach, which will help the housing market."
Mattioli said he feels there is a healthy balance of residential and commercial in the village currently. "Without commercial, you can't run a city," he said. "Taxes would be so high you couldn't live here."
Mattioli said a final strategic plan synopsis is due soon from consultant Lyle Sumek.
Councilman Jeff Hmara said he likes the process the village has gone through so far.
"I think it's a very valuable exercise," Hmara said. "It is a way for us to understand where we are coming from individually and… come to an agreement where, at least from a policy point of view, the council sees us going as a community."
Councilwoman Martha Webster agreed, adding that she felt the workshop and subsequent report was well worth the effort.
"Lyle Sumek was good at facilitating it, and his process worked very well for us," Webster said. "The elected officials don't normally have an opportunity to sit down and have such lengthy discussions, in an organized format, to address the issues of where the village is and where they would like to see it go. What we're going to be waiting for now is the final document, and then of course the scheduling of the citizens' workshop where they will have input."
Webster said she did not feel the agreed upon characterization of Royal Palm Beach as an ideal community for families was necessarily a new concept.
"Remember that this was a process," she said. "This was a consensus of what everyone said. But I think the village has made some wonderful strides, has some great assets, and we have a bright future ahead of us."
ABOVE: The Royal Palm Beach Village Council.