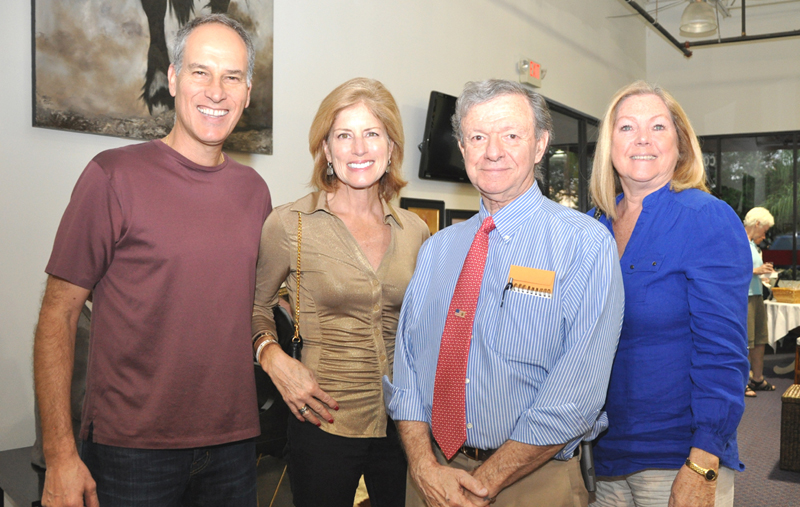 The Wellington Equestrian Gallery & Mall held a grand opening preview event Thursday, Jan. 3 as a kickoff for the equestrian season.
For the past few weeks, the gallery's artists and vendors have been busy setting up and presenting their merchandise. It proved to be well worth the wait.
Judging from the overwhelming attendance to the preview event, local equestrian enthusiasts' and art connoisseurs' interest had been piqued as they anxiously waited for the gallery to open.
The Wellington Equestrian Gallery & Mall was the brainchild of Jack Van Dell, who envisioned creating a unique mall that would feature an eclectic mix of various artists' work from around the world with an equestrian focus. All of the artists and their artwork have been carefully selected by Van Dell himself and international art dealer and collector Jeanne Chisholm.
"We have been feverously working to get the gallery set up before the equestrian season got underway, and we are very pleased with what we have to offer," said Van Dell, who also owns Van Dell Jewelers.
Many guests arrived promptly at 5 p.m. and spent the evening strolling past the artists booths while they enjoyed the music of world-famous pianist Copeland Davis playing a baby grand piano. The party atmosphere was enhanced by the wine and hors d'oeuvres provided by Gabe Finocchietti and his staff from Gabriel's Café & Grill.
As the evening progressed, many community leaders and equestrians browsed, shopped and visited with friends. Organizers noted that the evening had the feel of a "welcome back to town" reception, as attendees lingered and socialized with friends who they may not have seen since last season.
The official grand opening of the Wellington Equestrian Gallery & Mall will take place Tuesday, Jan. 22 from 5 to 9 p.m.
"We decided to have a sneak-peak preview tonight, so that everyone in town would know what we have here," Van Dell said. "But we will have even more artists and items in the gallery by the grand opening."
The Wellington Equestrian Gallery & Mall will soon be home to the largest selection of equestrian artwork in the south. Organizers judge that the successful preview party means an even larger attendance is expected at the gallery's grand opening on Jan. 22 and throughout the season.
The Wellington Equestrian Gallery & Mall is located at 13920 Wellington Trace in the Wellington Courtyard Shops plaza.
For more information about the gallery or the Jan. 22 grand opening event, call (561) 333-3100 or visit www.wellingtonequestrianmall.com.