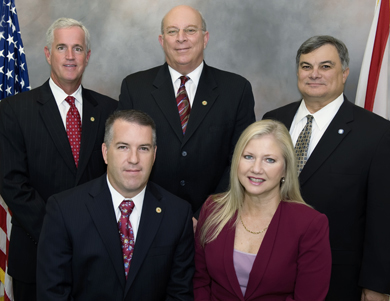 Wellington officials hope that 2013 will be a year for resolution, consensus and progress that will see steppingstones toward greater goals within the community. But coming off a year rife with discontent and community division, there are many issues that remain to be resolved.
Contention over the Equestrian Village site, approvals and subsequent lawsuits is expected to continue to make headlines, along with Wellington's search for a new village attorney.
But Wellington also hopes to make progress on plans for a completely rebuilt community center over the next year — a year that officials believe could see an upward swing for Wellington's housing market and tax revenue.
With several lawsuits filed on the issue, and the Wellington Village Council unable to come to a settlement agreement with show promoter Mark Bellissimo, the Equestrian Village issue will remain a hot topic in 2013.
"Unfortunately, I don't see a resolution to the issue," Councilman Matt Willhite said. "I think equestrian issues will continue to be in the forefront this year. I think it will end up in court."
Councilwoman Anne Gerwig agreed, noting that the council has been unable to come to a consensus.
"There doesn't seem to be any meeting of the minds in the making here," she told the Town-Crier Wednesday. "The only way I see this resolving is if it actually goes to court and some decisions are made."
Village Manager Paul Schofield said he hopes to see some balance in the equestrian community. "Wellington recognizes the uniqueness of the equestrian community and that it is very important," he said.
Willhite said he would like to see other issues of importance addressed this year as well.
"I think we need to focus on what's best for all of Wellington," Willhite said. "We are a municipality of 58,000 residents, and we need to focus on the issues germane to everyone. I know the equestrian community is important to all of us, but schools, parks and quality of life, these are the biggest issues that pertain to everyone in the village."
After parting ways with longtime Village Attorney Jeff Kurtz last year, the council has some big decisions to make in 2013 — among them whether to bring the position in-house or hire another contracted attorney.
"We still have uncertainty with our legal representation," Gerwig said. "I think we need to decide how we want to proceed and then proceed in that manner."
Willhite said he expects a decision early in the year, noting that a study commissioned by the council to evaluate the costs and benefits of both options would be finished soon.
"By February, we plan to have the results of the study back," he said. "I hope that by March or April we will make a decision on what we want to do and begin the process of hiring a new attorney."
Willhite also hopes to see important decisions regarding the rebuilding of the Wellington Community Center finalized this year.
"The goal is to have it completed and built by December 2014," he said. "By the end of this year, I hope to have everything planned and the contractor bid. Hopefully we'll have the demolition done prior to 2014, and then will have the year to build."
But Gerwig noted that council members have some tough decisions to make, which could affect the cost of the project.
"We talked about the community center and moving tennis, as well as about different options for K-Park all in one meeting," she said. "There are some people who want to move tennis, and as I've said in the past, it's an expensive option."
Gerwig noted that K-Park land on State Road 7 as well as village-owned property on Lyons Road had been mentioned as possible sites if the council decides to move the Wellington Tennis Center.
"I realize the parking situation is our fault," she said. "We kept adding to the site. I think it will be expensive to move tennis. I want to make sure we're not doing something shortsighted that, in the long run, will cost more than we can afford."
Though Willhite said he didn't expect discussion of K-Park to be a major story in 2013, he noted that Wellington would be paying off the purchase of the site this year.
"It's not going to cost us anything, especially with the farming being done on it," he said.
Wellington will see the reduction of its debt as a whole, he said.
"We're continuing to work to pay down our debt," Willhite said. "We're down to $9 million or $10 million, which is pretty good for a municipality."
Schofield said that he expects an uptick in Wellington's housing market after several foreclosed properties are initially released.
"You're beginning to see people invest in their homes," he said. "You're not seeing a lot of new construction, but people are doing things like remodeling their kitchens or adding on rooms. They seem to have a renewed confidence in the value of their homes."
Schofield expects Wellington's budget to remain steady until about 2016.
"You won't see any large changes in the budget," he said. "There may be some small things here and there, but we expect a flat budget for the next three years at least."
Most of all, Wellington officials hope the community can move on and look toward the future.
"I want to move on to good things," Willhite said. "You're never going to make 100 percent of people happy, but I think Wellington is still prosperous. We want to do what's best for the community."