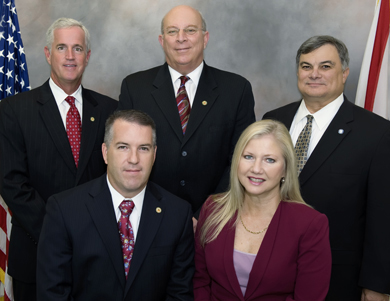 The Wellington Village Council gave the green light last week for a senior housing facility to more than double its occupancy from six residents to 14.
On Jan. 8, council members unanimously approved a development order petition for the New Age of Senior Care facility, located on the corner of Goldenrod Road and Hyacinth Place.
Long Range Planning Director Tim Stillings told council members that the application was only before them because the facility was within 300 feet of single-family homes.
"The code requires we come before you if it's within 500 feet," he explained. "It meets all the other standards of the code."
Stillings pointed out that the facility is separated from those homes by a canal, which was recently connected when Wellington closed Goldenrod Road at that site.
"We believe it provides an adequate buffer, as is the intent of the separation requirement," he said. The facility has three units, including one that would be rented to staff.
Stillings noted that New Age initially wanted to apply for a designation to allow up to 21 beds, but needed to make some improvements first.
"That was the original request," Stillings said. "They met most of the standards but were not able to meet some fire safety standards that would require the relocation of a fire hydrant."
Stillings said he expected them to return to apply for higher occupancy at a later date.
Councilman Matt Willhite asked how the facility planned to meet those fire safety standards in the future.
Kim Glas-Castro, agent for the facility, said that it would be not only adding a fire hydrant but also updates to the sprinkler system.
"This makes it financially infeasible at this time," she said. "It will be a long-term goal to convert it. They're talking maybe 10 years out."
Owner Antonio Borges agreed. "We would have to update to a commercial sprinkler instead of the residential one we have now," he said. "That would mean getting rid of what we have, and we don't have the funds to do that yet."
Glas-Castro noted that the facility is already operating with six residents who live together in a family-style environment. "These are seniors who are basically able to live independently with some assistance," she said.
Councilman John Greene asked how parking would work with additional residents.
Glas-Castro answered that residents are prevented from having cars.
"The residents are prohibited from having personal vehicles on the property," she said. "Visitations will be scheduled so that families don't all come at the same time, and employees are encouraged to carpool. There is sufficient parking to meet the village parking codes."
Councilwoman Anne Gerwig asked about the end unit used for staff rental. "Will a staff member be living on site?" she asked.
Glas-Castro said there is a staff member living in the unit but that it may be used for office space or storage instead.
Gerwig said she wanted to be sure it would be used only by staff of the facility, not rented out for other purposes.
Glas-Castro said it would be for use or rental only by New Age staff.
Vice Mayor Howard Coates said he supported the project, noting that it wouldn't even have had to come to the council if it were farther away from single-family homes.
"I think there is a lot of support in the community for this type of facility," he said, making a motion to approve the resolution.
Greene seconded the motion, which passed unanimously.
In other business, council members gave final approval to the creation of a registry for foreclosed properties in the village in hopes of tackling abatement issues.
Dubbed the "Real Property Mortgage Registration Ordinance," the measure requires lenders to register with Wellington, pay an annual fee and maintain the foreclosed properties to Wellington's code.
The ordinance requires lenders to register with Wellington's vendor, vacantregistry.com, within 10 days of foreclosure.
The item was unanimously approved on its preliminary reading last month, but Vice Mayor Howard Coates wanted some of the language cleaned up to reflect when a home would officially enter the program.
Code Compliance Manager Steven Koch told council members that the language had been updated to require that there must be a pending suit against property owners due to failure to pay for it to be considered in default and eligible for the program.
Coates noted that the point of the registry was to make sure the homes are maintained.
"We want to make sure that the lenders who hold these properties are registered so that… we can have someone to contact for maintenance," he said.
The registration fee is expected to be set at the council meeting Tuesday, Jan. 22.