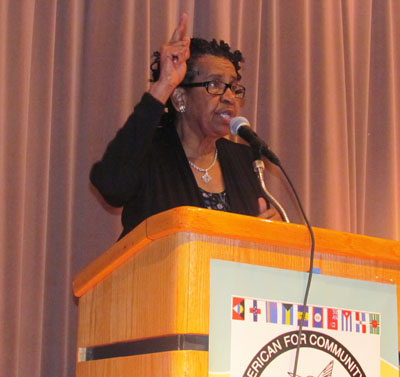 To honor the legacy of the Rev. Dr. Martin Luther King Jr., Caribbean-Americans for Community Involvement and the Village of Royal Palm Beach will host their 11th annual Martin Luther King Day celebration Monday, Jan. 21 at the RPB Cultural Center.
This year's theme is "An Inspirational Legacy" and will feature a variety of local talent and guest speakers. The free event is open to the public. The morning begins with a continental breakfast served from 8:45 to 9:30 a.m., followed by the ceremony starting at 10 a.m.
King was one of the most influential leaders of the civil rights movement, known for his famous "I Have a Dream Speech" given from the steps of the Lincoln Memorial denouncing racism and segregation.
For the past 11 years, the Royal Palm Beach event has been the occasion for a series of inspirational guest speakers joined by local officials who show their support in the observance of Dr. King's legacy. This year's keynote speaker is Urban League of Palm Beach County CEO Patrick Franklin. Palms West Presbyterian Church Pastor Ruffin Stepp will give the invocation.
Performances will be provided by various local talent, including the Ebony Chorale of the Palm Beaches, the Youth Orchestra of Palm Beach County, Jade and Demi Masters, Malik Williams, Perry Stokes, Copeland Davis and the VSA SpotLighters.
CAFCI Cultural Director Elet Cyris has organized the event for many years as part of a mission that she believes is a necessity in the community. "We are the only ones out here doing something like this to honor the memory of Dr. King," she said.
Cyris also came up with this year's theme. "I came up with it after President Barack Obama was re-elected," she said. "It's a realization of one of Dr. King's dreams, so it's a time for all Americans to be proud."
CAFCI and Royal Palm Beach started the event 11 years ago, and it has grown significantly over that time. "Last year, we had standing room only because we had hundreds of people attend," Cyris said. "I believe everyone enjoyed it."
The event is a way to celebrate the life of Dr. King and what he stood for. "It's also good for our community, and the village partners with us because of how important it is," Cyris said. "We live in a diverse community, and this event brings everyone together, which is amazing."
The event will also be held on the same day as President Obama's official inauguration. There will be a screening of the inauguration after the ceremony.
"It all ties in because this is what Dr. King stood for, what he fought for and what he believed in," Cyris said. "We are a part of the legacy as well as witnessing it as one nation together."
ABOVE: Organizer Elet Cyris at last year's event.