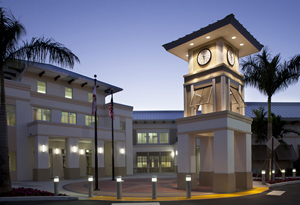 Wellington businesses located near residences will continue to be limited in their hours of operation after members of Wellington's Planning, Zoning & Adjustment Board struck down another staff proposal Monday aimed at "leveling the playing field" among businesses in Wellington.
At present, businesses located within 300 feet of homes may be open only from 6 a.m. to 11 p.m., while businesses outside of that distance are not limited to such hours.
Long Range Planning Director Tim Stillings noted this often causes businesses in the same plaza to have different hours.
"Some buildings nearer to homes are restricted by the code while others aren't," he explained. "You could have two businesses next to one another and they could have different regulations."
Last year, questions about hours of operation in Wellington arose after some businesses said they were at a disadvantage because of the code. At the council's request, village staff looked into the issue and proposed a solution in December to the PZA board that would lift the restriction on hours of operation for indoor activities, instead using code enforcement to govern noise or other issues.
But board members asked staff to reconsider the measure. Stillings told members Monday that his recommendation remained largely the same.
"These hours of operation have not been enforced and there has not been an overabundance of abuse," he said. "We have not had extensive issues related to noise or other business-related issues."
Several board members were concerned with public safety, especially following a robbery at the McDonald's on Greenview Shores Blvd. last year.
But Stillings said that deputies from the Palm Beach County Sheriff's Office said it was the type of business, not the hours of operation that is an issue. "They said it's the type of business that primarily affects safety," he said.
But PZA Board Member Paul Adams said he knew from his experience in corporate real estate that was untrue.
"I don't buy your argument that after midnight things don't change," he said.
Furthermore, he did not envision Wellington as a "24-hour town."
Stillings offered several options to board members, including allowing these businesses to operate similar to hours of liquor sales: from 7 a.m. to 2 a.m. Tuesday through Friday and from 7 a.m. to 3 a.m. on Saturday through Monday. Another option would be to grant hours of operation by business type.
"Staff has found that option to be the most problematic," he cautioned.
Other options included using a threshold — like a road or canal — to provide exemptions, or to keep hours of operation the same and require businesses to come in for exemptions.
Currently there are 13 businesses that don't comply with the code, Stillings said.
PZA Board Member Carol Coleman asked how these hours could be enforced. "If code enforcement isn't able to enforce them now, how would they do it if we changed them?"
Stillings said that was why village staff wanted a simple, blanket solution.
Coleman disagreed. "I'd rather you specify the type of business that could benefit from being open 24 hours rather than allow it carte blanche," she said.
During public comment, several business owners spoke in support of staff's recommendation to allow the 24-hour opening.
Charles Pace said he has been with the Shell gas station on Wellington Trace since 1996, but that it had been there since the early 1990s. "We've been open 24 hours since the beginning — that's 25 years," he said. "We support you allowing us to remain to do so. It has gone very smoothly."
He said his customers are usually people who are getting out of work late or getting up early and need gas and snacks when other stores are closed.
Radosevich asked if he was aware he was operating illegally, and Pace said he had not been. "I didn't know we weren't supposed to," he said. "When I purchased it, we were open 24 hours. I only recently found out it was a problem."
She then asked if he would be willing to come before the board to ask for an exemption, and he said he was concerned that it wouldn't necessarily be an easy process and that his exemption was not guaranteed.
Jon Nolli of JoJo's Raw Bar & Grill in the Wellington Marketplace had similar concerns.
"I've been there five years without incident," he said. "Not everyone works 9 a.m. to 5 p.m. We get late-night customers from other businesses. I make more money from food after 9 p.m. than I do before. If you say I have to close at 11 p.m., I'm going to be in for a world of hurting."
Radosevich also asked Nolli if he'd be willing to come in for an exception. "I don't think I should have to," he said. "I went to the village when I bought the place, and they gave me different hours."
Coleman noted that he may have been advised under a 2007 ordinance that limited the hours of alcohol sales in the village.
After several minutes of discussion, Radosevich made a motion to reject staff's recommendation and keep the hours of operation the same — 6 a.m. to 11 p.m.
She also said, however, that she'd like to see a task force with members of the community, staff and a board member to find a fair solution for the 13 businesses that have been operating outside of those hours for many years.
"I'm not saying everyone will get everything," she said. "I'd like to see something reasonable and fair come back before us."
Adams seconded the motion, noting he was displeased with the staff's recommendation. "We told you last time that we don't want a 24-hour village," Adams said.
Radosevich suggested PZA Board Member Mike Drahos lead the task force, and he agreed. The motion carried unanimously.