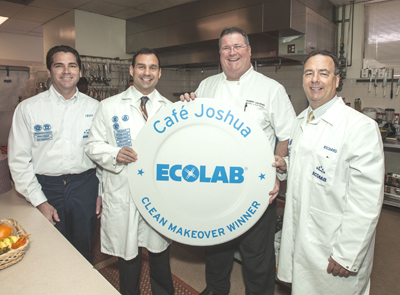 Café Joshua, a nonprofit kitchen in West Palm Beach, has been announced as the second winner of Ecolab's Clean Makeover Contest, which invited foodservice operators to explain why they could use extra help from Ecolab. Café Joshua will receive up to $25,000 of Ecolab equipment, products and services to enhance the cleanliness and efficiency of its operations.
Entries in the Ecolab Clean Makeover Contest ranged from humbling to humorous, but all shared a common theme: a desire to maintain a high degree of cleanliness under sometimes challenging conditions.
"From the hundreds of entries we received, Café Joshua's essay captured our attention because of the organization's impact on the local community," said Kevin Rowley, senior marketing manager for Ecolab Institutional Foodservice. "The organization feeds the homeless, helps clients develop life skills and prepares them for work in the foodservice industry. Café Joshua also recently launched a corporate catering business to help support their efforts."
Through Café Joshua's programs, students learn on-site food preparation and kitchen operations, including food safety regulations and best practices in kitchen sanitation. Over the past three years, the program has successfully graduated 54 students. Many go on to work in catering and foodservice careers in local restaurants and hotels, medical centers, banquet and dining halls and school districts.
The Clean Makeover Contest prize package, valued at up to $25,000, includes an Ecolab rental dish machine with innovative Apex2 technology; Ecolab Pest Elimination service; an Ecolab Cleaning Caddy for touch-free restroom cleaning; assorted cleaning products and tools for kitchen operations, including detergents, sanitizers, floor and glass cleaners and hand care products; Ice Machine Smart Care Performance Check service; water filtration equipment for an ice machine and post-mix beverages; a food safety evaluation and coaching session; and a Prep-n-Print food labeling system.
Started in 1995, Café Joshua was a place for homeless people in West Palm Beach to receive a hot, restaurant-style meal. In 2000, the organization merged with the Lord's Place, which provides comprehensive case management, job training and supportive housing, as well as a thrift store.
The merger allowed Café Joshua to expand into a corporate catering business that brings revenues back to the nonprofit. The agency serves an average of 560 homeless men, women and children every month.
For more information about the Lord's Place, visit its web site at www.thelordsplace.org.
ABOVE: Café Joshua's Robert Coleman (third from the left) with Ecolab's Erich Henke, George Panas and Richard Roberto.