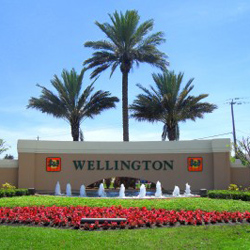 Further discussion will be needed before some residents could pursue removing parts of Wellington's equestrian area from village control.
Members of the Equestrian Forum of Wellington hosted an informational meeting Monday, Feb. 18 at Polo West Cantina to address the issue.
"We had been approached by some landowners… who have been frustrated with the way things are going," Board Member Alex Zilo told the Town-Crier Tuesday. "We wanted to provide them with as much information as possible."
In the wake of a controversial election and some decisions by the current Wellington Village Council, Zilo said he believes some residents are concerned about Wellington's future and want to explore their options.
The meeting was not to decide whether to secede — or "deannex" — parts of the Equestrian Preserve Area from Wellington, Zilo stressed, but instead to give residents information.
"No decision was made at the meeting," he said. "We had handouts with information about the process and what services Wellington does and does not provide."
Instead, the board agreed to put together a feasibility study to gather more concrete information about the pros and cons of secession, and what is and isn't possible, Zilo explained. "I'd like to have it done by our next meeting," he said.
Wellington Village Manager Paul Schofield spoke at the meeting, providing information on the process.
Councilwoman Anne Gerwig, who attended, said she thought the meeting was an important opportunity for residents to air their grievances and come together to find out more information, even if they don't pursue any action.
"Not everyone in the room agreed with everything that was said, but I think it was important for people to come together, get information and discuss these issues," she said.
Councilman Matt Willhite, who also attended, noted that parts of Wellington might not be able to secede, as pointed out at the meeting. For example, any areas within the Wellington PUD (planned unit development) cannot leave the village. That includes Saddle Trail and the controversial Equestrian Village site. "Those areas can't come out," Willhite explained. "I think a lot of people came looking for information, and I think they were enlightened on some things."
When developed, Wellington was split into several large units that are made up of land both in and out of the Equestrian Preserve.
Gerwig noted that Paddock Park and Orange Point would be affected as well.
"It would affect so many properties that you'd have a hodgepodge of areas [that could secede]," she said. "You can't just deannex part of a PUD. But I think it's good for people to discuss it in case that's something they want to work toward."
Though secession of certain areas could be possible, Zilo said that residents would have to weigh the positive and negative aspects of each.
"There are some services that Wellington provides that would be lost from seceding," he explained. "Wellington pays to have additional deputies on patrol. But some residents may not want to pay for those additional services."
If secession were to occur, Willhite noted that the area would be governed by Palm Beach County, unless residents organized to incorporate into their own government — a process that could take a long time.
"They can't be without government," he said. "They would also still fall under the Acme Improvement District, which is run by the current council. They would still be subject to our water quality standards and other rules."
Gerwig noted that Wellington's rules have been carefully crafted to protect its equestrian area, and defaulting to the county rules could cause problems.
"They would lose the protection of the [equestrian overlay zoning district]," she said. "The way Wellington is set up, our levels of service on the roads in the equestrian preserve is almost at a failing rate. But that's because we want slow traffic, which is better when you have horses and trailers in the area. The fact that the roads are two lanes with congestion makes it safer for the type of use we have."
But that is unique to Wellington, Gerwig said. "If the roads were to Palm Beach County standards, they'd be widened immediately," she said. "They wouldn't have that protection if the county wanted to go in there and widen South Shore Blvd."
Willhite said he hopes to see more discussion before a decision is made.
"I think anything that is done needs to be done methodically," he said. "I think it would be irrational to just go out and get all the signatures without taking the time to discuss what would happen."
Gerwig said that although she sees value in having the conversation, she doesn't see secession as an answer to the divisiveness in Wellington.
"I don't see it progressing, just because there are too many difficulties," she said. "Given the conditions, I don't see how it would achieve what they want. I think it could open them up to a lot more concerns, like road widening."
But Zilo said that would be up to residents, who, hopefully, will continue to be informed on the issue. "We just want to gather the information so that residents can decide if it's what they want," he said.
For more information, visit www.equestrianforumofwellington.com.