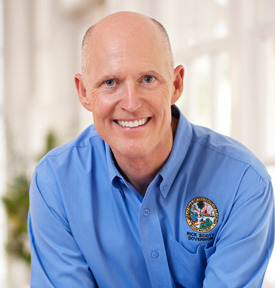 Gov. Rick Scott announced this week that he has allocated $8 million for improvements to the dike separating the J.W. Corbett Wildlife Management Area from The Acreage.
The money was included in Scott's proposed budget released last week. He made the announcement Monday during a presentation at a Forum Club luncheon at the Palm Beach County Convention Center, according to Indian Trail Improvement District Administrator Tanya Quickel, who attended the meeting.
"Gov. Scott provided an overview of some of the items he is including in his budget," Quickel said. "One of the items of particular importance to Indian Trail, he stated that $8 million is included for the J.W. Corbett levee/berm project. That is the result of Tropical Storm Isaac flooding."
During the flooding in The Acreage from Tropical Storm Isaac, state, county and local officials monitored the levee closely for a possible breach due to the difference in water levels between Corbett and the surrounding residential areas. If the berm breached, it could have significantly worsened the flooding problems in The Acreage.
Material was brought in to use in the event of a breach, and a weir was built on the east side of Corbett to allow some of the water to flow across the Seminole Pratt Whitney Road right of way into the Mecca Farms property.
The funding still has to get through the legislative session, but Quickel said she is optimistic that the project will be funded.
"There is proposed funding with it at this point," Quickel said. "It is in design phase with soil sampling and survey work being conducted as part of the design phase."
Quickel added that the South Florida Water Management District is organizing another meeting in March to review the project with all parties involved, including the U.S. Army Corps of Engineers, the Florida Fish & Wildlife Conservation Commission, ITID and the Florida Department of Emergency Management.