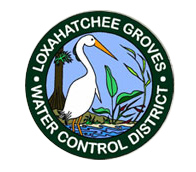 The Loxahatchee Groves Water Control District Board of Supervisors approved a contract with engineer Stephen Yohe to be their new district administrator Monday, replacing longtime administrator Clete Saunier, who left in November over salary disagreements.
The board spent less than an hour going over details of the contract, including a car allowance, administrator responsibilities and terms of severance.
Human resources attorney Lara Donlon said minor changes had been offered by supervisors to the terms of the agreement since it was drafted in January. A similar contract had been rejected by the board's first choice, former Clewiston City Manager Steve McKown.
The package provides a base salary of $84,000 with a possible 2 percent merit raise after six months and a 3 percent merit raise after a year if the board gives a satisfactory performance rating, as well as other benefits including a $400 car allowance, $100 phone allowance, health insurance, retirement plan, vacation and sick time.
Donlon said Atlantic Personnel conducted a background check, including criminal and driver's license screening, and received favorable responses from all former employers.
Yohe has been the director of engineering for the Community Learning Outreach Center since June 2010, where he also wrote the charter school application and several grant applications. Before that, he was senior project manager and engineer for O'Dell Land Development Consultants, where he designed and handled permitting for water, sewer, paving and drainage projects.
Other prior experience includes director of planning and engineering for the Housing Trust Group of Florida from 2002 to 2007, interim director of public works for the Village of North Palm Beach in 2002, and executive director of projects and facilities management for the Public Building Authority of Knoxville, Tenn., from 2001 to 2002.
Prior to that, Yohe worked for many years with the John D. and Catherine T. MacArthur Foundation, where he was director of engineering and later deputy director of Florida operations. He earned his degree from the University of Florida in 1976.
Supervisor Don Widing, who led the interviewing, said it had been a smooth process working with Yohe and wanted to be sure that he agreed with any changes to the contract.
Supervisor John Ryan said he would prefer that the contract state that Yohe must receive no less than a satisfactory performance review at six and 12 months by each supervisor — but that, Supervisor Robert Snowball pointed out, would give one supervisor the power to force Yohe's dismissal.
"The only problem I have with that is that if one guy has a problem with something that's small and four [supervisors] love the guy, the way the contract was written you'd have to let him go," Snowball said.
Widing agreed. "I appreciate your being cautious," he said to Ryan, "but if we have a rating scale of one-to-five and one person is below three, then this person's contract could be subject to being voided. I think that's a little extreme."
As a compromise, Widing offered that the supervisors give at least a 4-1 approval, and the other supervisors agreed.
Widing also suggested that the board develop clear goal-setting strategies in order to help the new administrator. "We need to work a little harder at that, so that when that evaluation comes, we shouldn't be in a position, nor should Mr. Yohe, to be surprised when it's done," he said. "It's performance measurement. I'd expect him to come to this board once a month with a report. It's basic contract management and program management. That's the accountability we didn't have in the past."
LGWCD Chairman Dave DeMarois said he wanted to take advantage of Yohe's engineering degree to provide services that are currently contracted, and Ryan agreed. "I think the fact that Mr. Yohe has an engineering degree is helpful," Ryan said. "To me, that just sets in place some additional time for him to get trained on some of the work that he'll be fully capable of doing."
Widing also called attention to the administrator's responsibility to establish and maintain satisfactory working relationships with other governmental entities.
Ryan agreed that intergovernmental coordination will be an increasingly important job, adding that he thought that if Yohe decided to leave the district, he should be fully available to provide transitional assistance to his successor.
"We might as well spell that out rather than just assume it and not have it understood," Ryan said, calling attention to the board's inability to come to terms with Saunier to provide transitional assistance.
Ryan also pointed out that the severance clause, which provides 60 days' pay in the event of termination without cause after a year's employment, was intended for him to be available to provide that transition. "I think the 60 days is not just severance to go on a paid vacation," he said. "It's severance to be available if we need assistance in transitioning to a replacement."
Yohe thanked board members for the opportunity to serve the district. "I listened closely and clearly understand the direction of the board," he said. "I accept all terms of contract."
Ryan invited Yohe to speak with the supervisors individually about their goals. "I know this is going to be a busy week or two to get your feet wet, but if you could set aside some time, each of us ought to work out some time to meet with you and tell you what our particular interests have been," he said.
Ryan made a motion to accept the contract with the changes they had discussed, which carried 5-0. Yohe agreed to start the following day.