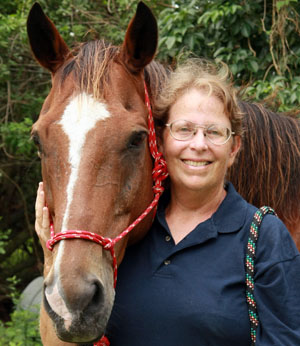 TAILS FROM THE TRAILS
For 101 years, the South Florida Fair has been welcoming, entertaining, feeding and educating guests. This year's theme is a salute to the presidency. The main expo building is filled with related exhibits, such as a sand sculpture of Lincoln and mock-ups of the front of the White House, the Washington Monument and presidential press conference podiums. You can walk through a replica of the Oval Office and a section of Air Force One. But the horse tent, always my favorite, seems far removed from these themes, both physically and in content.
Located at the livestock agriplex, at the far eastern edge of the grounds, the horse tent welcomes all those who mosey into its shavings-covered environs. On any given day, visitors might number anywhere from a handful to 50 or more, especially during the special events, which have been varied and held throughout the entire two weeks of the fair.
There were open times, when anyone with a horse was welcome to trailer in and ride around. This had a couple of benefits. It's a great way to accustom a horse to being inside a potentially spooky tent and get used to seeing new things, and it's a nice way for everyday visitors to meet neighbors and observe them sharing their passion for horses.
More structured offerings included Girls Night Out; trail demonstrations, where riders put their horses through a series of challenging obstacles; Parade of Breeds; and Mutton Bustin', where young visitors, under a certain weight, are invited to try riding sheep. There were also demonstration rides by a variety of local horse groups: the Gold Coast Arabians, the Outsiders Drill Team, the Sunshine Paso Finos and the J.C. Western Cowgirls Drill Team.
On one of my visits to the horse tent, Cindy Maxson and Kathy Lamerson were taking advantage of the open time to ride Maxson's two horses, Studly and Biggin.
Like me, Maxson looked around the horse tent and, while glad it's still a part of the fair, recalled a different time.
"There used to be so many local horse clubs doing booths and riding and showing here," she said. "But there aren't that many horse clubs left. I think the economy did a lot of them in, and many people couldn't afford to keep their horses anymore. It's very sad. But some of us are still here and still riding. Now the horse tent is more geared to individual events, rather than group events."
"We try to keep someone riding in the horse tent at all times," Lamerson said. "Our goal is to educate people about horses, how smart, kind and athletic they are. I love seeing kids' eyes light up when they're around horses. I know just how they feel. I got my first horse when I was 52. You should never give up on your dream."
"We were also part of the opening ceremonies and did a demo carrying the American flag," Maxson said. "I like to bring the horses out here as often as I can, nearly every day. Some days, especially on the weekends and on Martin Luther King Day, it's really busy. Other times, like this, it's pretty quiet."
The horse tent was, indeed, fairly quiet. A dozen horses of different sizes and breeds were stabled along one edge. About a dozen visitors wandered through, stopping to look at a pen holding a few shaggy miniature horses or the stalls housing horses of a more traditional size. Signs warned them not to try to pet them (Horses Bite!) especially one mustang (This Horse Really Bites!).
Pedro, from Boynton Beach, brought along his two young daughters, Tatiana, 5, and Isabella, 3. They were watching Maxson and Lamerson ride in the sandy ring.
"It's nice," Pedro said. "This is our first time being this close to a horse."
While Tatiana shyly hung back, Isabella boldly reached up to pet one of the horses when they rode over to talk with them. "I liked touching the horse," she said. "It's soft."
Perhaps this is a big part of the horse tent, inviting non-horse people a little ways into the world of equines. Eleven-year-old Sarah, down from Pittsburgh to visit her grandparents in West Palm Beach, was already hooked.
"I'm just starting riding. I take a lesson once a week," she said as she watched the demonstration. "I love horses. They're sweet."
People wandered in and out, mostly families with interested youngsters.
"I think the horse tent is an important part of the fair," said Lamerson, a member of the Horse Committee. "We start planning the schedule around the end of August. I think people enjoy spending time around horses. It's fun and relaxing. We want people to get a glimpse of what we do with our horses. We love to share and talk about our horses."
Haven't visited the horse tent yet or brought your horse to the fair? There's still time. On this last weekend of the fair, a desensitizing clinic with Jenell Baker will be held Saturday at 6 p.m. Horse owners are welcome to trailer in for free, but be aware that only one person may enter the fairgrounds for free with the horse; all others must pay admission. There's also a barrel racing show on Sunday, starting at 1 p.m.
See you at the fair!