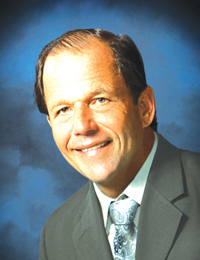 For success in promoting sports tourism in the equestrian community, the International Polo Club Palm Beach and its president, John Wash, have been selected as the recipient of the Palm Beach County Sports Commission's 2013 President's Award.
"John Wash is deeply dedicated to growing the sport of polo and its spectator base by spearheading multimillion-dollar enhancements at the International Polo Club, making it a top generator of tourism dollars in our county," said George Linley, executive director of the Palm Beach County Sports Commission.
Linley added that Wash and IPC also go out of their way to help the community. "In addition, it is his generosity in donating the use of prime polo fields, the stadium facility and resources that allows the Sports Commission to attract national and international sporting events to Palm Beach County, which bring tens of thousands of visitors to our area. It was a unanimous decision by the Hall of Fame Committee."
In 37 years of presenting the Hall of Fame Banquet and Annual Sports Awards, the President's Award has only been proffered on four occasions. The Palm Beach County Hall of Fame Committee is highly selective when determining a standout to receive the prestigious award, only bestowing it when an individual and entity is deserving in any given year.
"Working with George Linley and his team at the Sports Commission is a pleasure," Wash said. "It's exciting to see field hockey and lacrosse being played at IPC during our off-season. Amateur events in Palm Beach County have a $46 million economic impact, and the sports event industry maintains 4,000 jobs. We could not be more proud than to support the mission of bringing amateur sporting events to our area."
Wash and the International Polo Club will be honored at the 37th annual Palm Beach County Sports Hall of Fame Banquet and Annual Sports Awards on Sunday, March 24 at the Palm Beach County Convention Center in West Palm Beach.
Along with the International Polo Club, 2013's distinguished class of inductees include Andy Roddick, Tim Rosaforte, Dave Barnhardt, Kimmy Carter Bloemers, Gene Calloway, Robert Harris, Sam Howell, Gregory Lowery, Louis Oliver and Dana Quigley.
The Palm Beach County Sports Commission is a private, not-for-profit organization contracted by Palm Beach County to promote and market the county as a sports and sports tourism destination. The commission brings sporting events and activities to the county, enhances economic impact, stimulates bed tax revenues (with a focus on the off-season), and maximizes utilization of county facilities.
Tickets to the event are available online at the Palm Beach County's Sports Commission's web site, www.palmbeachsports.com. The deadline for ticket purchase is March 16.
ABOVE: John Wash