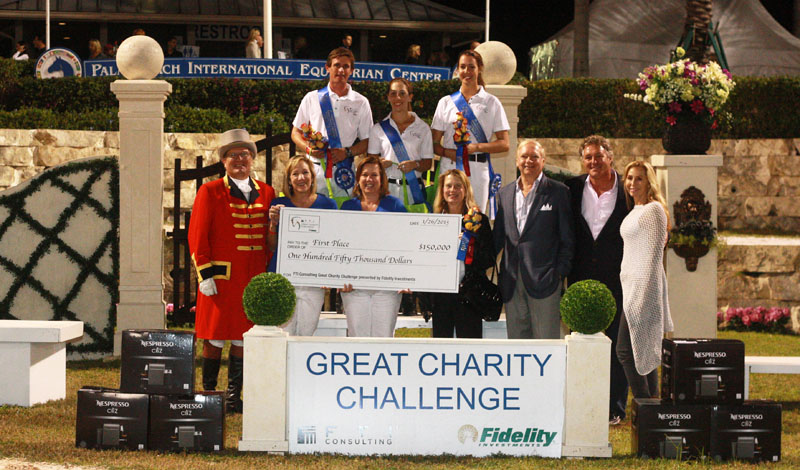 It was a packed house at the Palm Beach International Equestrian Center as more than 5,000 spectators watched the Juvenile Diabetes Research Foundation take home the big money at the fourth annual FTI Consulting Great Charity Challenge presented by Fidelity Investments on Saturday, Jan. 26.
"We are just completely overwhelmed," said Lora Hazelwood, executive director of the Juvenile Diabetes Research Foundation of Greater of Palm Beach County. "We're so grateful."
But no one walked away empty-handed, with the 34 Palm Beach County charities taking home more than $1.5 million between them.
"This year was fantastic," Equestrian Sport Productions CEO Mark Bellissimo told the Town-Crier. "It's four years and more than $4.2 million later, and the event just keeps growing. It was the biggest crowd I think we've ever had."
This year, a major emphasis was put on including Wellington charities — nine of them, or roughly one-third of all the included charities.
Bellissimo said that the Wellington charities netted more than $225,000, all of which will be put directly into the community.
"What's really exciting for me is that this money will be put to work immediately in the community," Bellissimo said. "Wellington is the home of this festival, and we wanted to make sure to give back to the community that has been so supportive of the show and of us."
FTI Consulting Executive Chairman Dennis Shaughnessy said that the spirit of giving has kept his company coming back to sponsor the event each year.
"I'm delighted," he said. "To be able to give $1.5 million directly to all of these charities is just incredible. It's a great thing to do for the community and a lot of fun to see the faces on the winners and everyone who comes out."
It was the first appearance in the Great Charity Challenge for the JDRF, and riders Darragh Kenny, Catherine Pasmore and Meg O'Mara had the fastest time to secure the $150,000 prize. The team was sponsored by Jessie Pasmore and Martha Jolicoeur and corporate sponsor Stone Hill Farm.
"We were just thrilled to be selected," Hazelwood said. "We were so grateful to be getting even $10,000. We had no inkling that we would win $150,000. This is our fourth year of trying, and we'd never even been selected. Not only were we selected this year, but we won."
JDRF finances research and local support programs for children, teens and adults with Type 1 diabetes. "We have a lot of local outreach programs," Hazelwood said. "We have amazing research centers right here in this state that are teamed up with our universities."
Hazelwood expressed her gratitude for everyone involved. "I want to thank FTI Consulting and all the sponsors," she said. "Our team was just amazing — they were young and enthusiastic. We also want to thank Jessie Pasmore. We found that she had a personal connection to Type 1 diabetes. It was just a randomly assigned partnership, but we think it was pretty meaningful."
In second place was College for Kids/Take Stock in Children, sponsored by the Mirabal family and G&C Farm as well as corporate sponsor Palm Beach Illustrated. The team of Maria Emilia Chapellin Mirabal, Carolina Chapellin Mirabal and professional Luis Fernando Larrazabal secured $125,000 for the charity, which helps local students achieve a college education.
Third place went to the Junior League of Palm Beaches — a wild-card charity drawn at the start of the event.
"We had no idea we'd be getting any money at all," President Shelly Albright said. "We've applied several years in a row, and it's just amazing. It's hard to describe how amazing."
Riders Perla Boord, Lillie Keenan and David Blake secured $100,000 for the nonprofit. The team was sponsored by Pine Hollow Farm and corporate sponsor Gut Einhaus.
Albright noted that her organization focuses on children's wellness and welfare and that all the money will stay in Palm Beach County.
"We are helping girls in the foster-care system, girls who have aged out of the system and girls in the juvenile detention center," she said. "We also do eye and ear screenings for preschool children."
Three charities also walked away with a little bit extra for winning the "Fan Favorite" contest through online voting.
Danny & Ron's Rescue secured the most votes and took home $25,000 extra. Meanwhile, the Wellington PTA/PTO Group and Children, Hope & Horses each received an extra $12,500.
Bellissimo said he hopes to see an even bigger and better event next year. "I'm confident we'll get to give away $2 million next year, which will be great," he said. "I think this will truly be a legacy event for this community."
For more information, visit www.ftigreatcharitychallenge.com.