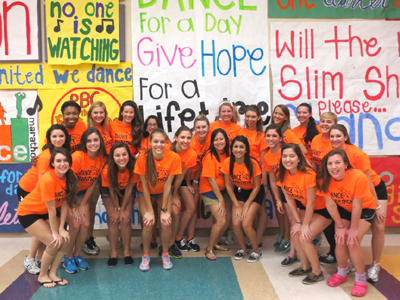 Palm Beach Central High School held a Dance Marathon on Saturday, Jan. 26 to benefit Shands Hospital for Children at the University of Florida.
With more than 150 colleges and high schools raising money for local Children's Miracle Network hospitals, Dance Marathon has become a nationwide movement. Dance Marathon is a completely student-run philanthropy celebration filled with dancing and standing, but absolutely no sitting.
"We dance for those who can't" has become the universal reply when spectators question how people could stay on their feet for that long. The money raised from Dance Marathon provides for more than 17 million patients each year, including 88 percent of all children battling cancer. This year, Palm Beach Central decided to establish Dance Marathon.
All money raised directly benefit Shands Hospital for Children. For more information, visit www.helpmakemiracles.org/eventpalmbeachcentral.
ABOVE: Palm Beach Central students show their support for Dance Marathon.