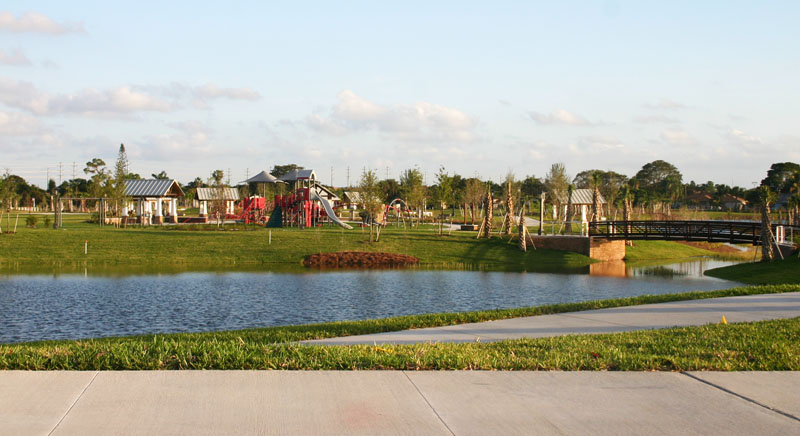 Royal Palm Beach will host a ribbon-cutting ceremony to open the new Royal Palm Commons Park at 11600 Poinciana Blvd. on Saturday, March 2 from 10 a.m. to 4 p.m.
The ribbon cutting will be the preamble to a larger grand opening weekend event set for Friday through Sunday, March 22-24.
Village Manager Ray Liggins said the ribbon cutting is intended to allow the public to get to know the new 160-acre park, although all the furnishings and vendors are not yet in place.
"We're going to have the Food Truck Invasion there serving food throughout the day with over 15 food trucks," Liggins said.
Entertainment will be provided by local schools, karate and dance studios beginning at 10 a.m. at various locations within the park. Other activities include inflatable games, sand volleyball and rides, canoeing, kayaking and paddleboat rentals. Children can also bring a bathing suit to the interactive fountain.
"This is the opening of the park to the public," Liggins said. "This is where we can start letting people in to enjoy it."
Furnishings are not yet installed on the second and third floors of the main facility, although the boat rentals are set up on the first floor.
"We don't have a café and a golf vendor, but we do have an outfitter," he said. "We're going to handle the golf ourselves for right now, and we're going to build the kitchen out ourselves and rebid the café. We've decided to put the furnishings on that main floor ourselves."
The third floor, which is intended for parties and receptions, will be open for residents to visit and check the view of the park and beyond.
"This is long-awaited," he said. "It's going to be a great park."
The grand opening March 22-24 will begin Friday at 5 p.m. with more entertainment, a fun zone where ride bracelets can be purchased for $10, another Food Truck Invasion and a fine arts & crafts exhibition, all of which will be there for the three days of the event. "We will have a variety of vendors out there," Community & Cultural Events Superintendent Carlos Morales said.
A movie, The Amazing Spider-Man, will be shown at 7:30 p.m., local groups will perform at various locations, and the Taiko Japanese drum corps will do a demonstration.
Saturday, March 23 will kick off with a 5k run at 7:30 a.m. within the park, benefiting the Wounded Warrior Project. Participants can register at the RPB Recreation Center at 100 Sweet Bay Lane or online at www.royalpalmbeach.com at $10 for early registration before March 20 and $20 thereafter. A free kids fun run/walk will also be held at 9 a.m.
After the run, activities begin at 11 a.m., featuring demonstrations by the Palm Beach County Sheriff's Office and Palm Beach County Fire-Rescue. The PBSO will do a canine demonstration at noon on the stage. They will also have their bomb squad vehicle, a mounted unit and marine craft. PBCFR will do extrication and fire demonstrations.
Musical entertainment will begin at 1 p.m. with local country performer Jess Taylor, followed by national country recording artist Tom Jackson and his band.
Those performances will be followed by three tribute bands — the Orange Sunshine Beatles tribute at 4 p.m., the Long Run Band Eagles tribute at 6 p.m., and Lazy Bonez' tribute to the '80s featuring Van Halen and Guns N' Roses.
An interactive DJ will be playing music throughout the day near the splash pad, along with other local talent at various locations. There will be cornhole and volleyball tournaments, and Crazy Games will coordinate field games for kids.
Kayaks, canoes and paddleboats will be available for use on the 19-acre lake, and the driving range will be open for free driving, chipping and putting.
The day will conclude with a Zambelli fireworks display at 9:30 p.m.
Sunday, March 24 will be more laid-back with a green market and classic car show beginning at 10 a.m. Music will include Billy Bones performing jazz, blues and reggae, followed by Jimmy Buffett tribute band Jimmy Stowe and the Stowaways. Activities will conclude at 5 p.m.
Parking will be available throughout the park, with a shuttle service available within the park. For more information, visit www.royalpalmbeach.com or call the RPB Recreation Center at (561) 790-5124 or the RPB Cultural Center at (561) 790-5149.