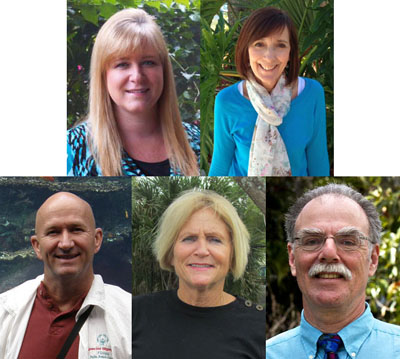 With more than 12,000 teachers in Palm Beach County, recognizing all of their hard work and dedication is a challenge, but a necessity. Through the William T. Dwyer Awards for Excellence in Education, the Economic Council of Palm Beach County and the Education Foundation of Palm Beach County honor the exceptional work of teachers.
Each school nominates five candidates, one in each of five categories. Those names are sent to the Dwyer Awards Selection Committee, which then chooses five finalists in each category. Twenty-five nominees across the five categories were chosen as finalists for the 2013 awards. Nine educators from local schools are among them.
Lisa Simpson of Loxahatchee Groves Elementary School is nominated in the Elementary Education category; Ronald Wilber of Wellington Landings Middle School is nominated in the Middle School category; Maureen Witkowski of Royal Palm Beach High School and Scott Zucker of Wellington High School are nominated in the Senior High category; Steven Gordon of Western Pines Middle School, Barbara Incandela of Wellington High School and Elizabeth B. Richards of Equestrian Trails Elementary School are nominated in the Special Programs category; and Patrick Raney of Royal Palm Beach High School and Earle Wright of Seminole Ridge High School are nominated in the Career Education category.
Loxahatchee Groves Elementary School reading, writing and social studies teacher Lisa Simpson has been teaching in Palm Beach County for eight years and enjoys working with children. "To see them growing and learning every day is the best part of being a teacher," she said.
Simpson tries to meet the needs of each student on an individual level. "I have a range of kids who have different needs," she said. "There are some who have difficulties at home or who excel at reading but need guidance in other areas."
Most importantly, Simpson tries to be herself. "I just beat to my own drum," she said. "I think the students respond to this, and the other teachers probably have noticed that and decided to nominate me."
Simpson is the school's first teacher to be chosen as a finalist for the Dwyer Awards. "It's quite an honor," she said.
In order to be eligible, teachers must have taught for at least three consecutive years in Palm Beach County. Wellington High School intellectual disabilities and autism teacher Barbara Incandela has exceeded that qualification, having taught for more than 21 years in the county.
Incandela, a finalist in the Special Programs category, loves her job. "I have probably the best class in the whole school," she said. "I feel very blessed to teach them because they are all very positive, fun, loving and eager to learn."
Incandela goes above and beyond her academic teaching abilities by preparing her students for life. "I try to instill a joy for life by doing a lot of community-based instruction like taking them out into the community so they can learn life skills," she said.
Royal Palm Beach High School health teacher Maureen Witkowski is one of the pioneer teachers at the school with 18 years under her belt. "I've been there since it first opened, and I've seen teachers and principals come and go," she said. "I'm on my sixth principal now."
To help her students deal with adolescent issues and keep students out of trouble, Witkowski started an anger management program at RPBHS. She is also the SADD (Students Against Destructive Decisions) coordinator and is involved in a mentoring program. "I want to change negative images of our school," she said. "Every school has problems, but I would like for every bad thing that happens here, we have a good thing that we put out."
Witkowski believes strongly in her school and students. "We have some really great students who really want to learn and do well," she said. "This is a diverse school with students from many cultural backgrounds and races, and we all work together as one. That's why I love our school and have been here for so long."
Wellington High School journalism and writing teacher Scott Zucker has been teaching high school for 28 years. He started at WHS when it opened in 1989. Zucker's literary magazine and journalism class produces the school's newspaper, the Wellington Wave, and four shows a year.
"Hundreds of students are able to perform both original works and works from published poets and authors," he said. "It gives students the opportunity to succeed on stage and receive recognition."
The writing program, which Zucker heads, has national and regional award winners. "I really want to get my students to go out into the world and make a name for themselves through recognition," he said.
Zucker gets his students to volunteer their time by being involved in community events. "They do things like film events for the Loxahatchee National Wildlife Refuge and produce video that they may want to use for their own purposes," he said.
Wellington Landings Middle School Spanish teacher Ron Wilber is in his third year at that school, but has been teaching for 25 years. Wilber started as a special education teacher, and after 19 years decided to switch to Spanish. "It was a great decision on my part to change," he said. "I love Spanish."
Seeing children grow and learn is what makes Wilber proud of being a teacher. "To watch people grow and know that I'm directly responsible for their growth reinforces why I like teaching so much," he said.
Wilber was surprised to learn he'd been nominated. "I'm new at the school, and I did not even think I was very well-known," he said. "I think they know I work hard and I've stepped into leadership at the school."
One of the biggest impacts Wilber has made at Wellington Landings is by introducing students and teachers to The Law of the Garbage Truck by David J. Pollay. "It empowers students in how to react to difficult people, and I've been using it for several years in my classroom," he said. "I have seen a tremendous difference in my students."
Even the principal of the school has witnessed the difference. "She came into my classroom last year and saw how I was using it on my students," Wilber said. "She suggested that I join the Positive Behavior Support Committee and share the idea with the group."
The school has now adopted the concepts of The Law of the Garbage Truck, which teaches students not to allow people to dump their negativity on them, and has seen a positive change in student behavior. "It's an incredible concept, and I've even taught it in the prison system," Wilber said.
All finalists will be interviewed by the selection committee. The winners in each category will be announced at an awards ceremony Tuesday, May 7 at the Kravis Center for the Performing Arts.
ABOVE: (Clockwise from top left) Lisa Simpson, Barbara Incandela,  Scott Zucker, Maureen Witkowski and Ron Wilber.