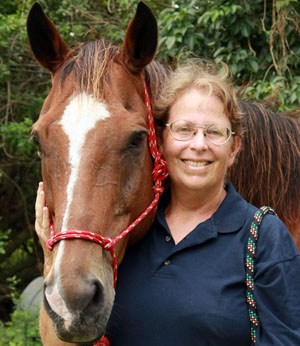 TAILS FROM THE TRAILS
Lori Cooper loves getting people and horses interacting in fun ways. She's the owner of Casperey Stables, located at 2330 D Road in Loxahatchee Groves, and she's been doing this for a while.
"Originally I ran a barn down in Broward, then I opened Casperey here in 2002," Cooper said. "Altogether, I've been running boarding, lesson and training barns for 31 years."
And doing it quite successfully.
According to Cooper, Casperey is a relaxed mix of a variety of breeds and riding disciplines: Thoroughbreds, Quarter Horses, Warmbloods, lots of Arabians, western, hunter/jumper and dressage.
"We do a little of everything," she said. "And we have a mix of kids and adults who ride or board with us. The facility is 10 acres, with 34 stalls and 12 school horses. Our students tend to be more kids than adults, averaging 30 to 40 a week."
A lot of those kids attend Casperey's summer horse camp and enjoy it so much that it gave rise to a new offering: Barn Dayz.
"A lot of kids really wanted the opportunity to do more than just ride in an hour lesson each week," Cooper said. "They wanted something like our camp experience during the rest of the year, so we decided to try this, which is like a Saturday camp."
Barn Dayz runs most Saturdays, rain or shine, from 9 a.m. to 3 p.m. for children ages 7 to 14. Children bring their own lunches, but snacks and water are provided. Cooper takes up to 12 children of any riding background or experience each Saturday. It costs $60 per day, or a 10-week package is available for $450. There's also a discount coupon available on their Facebook page if you "like" them.
"A typical Barn Dayz includes a regular riding lesson plus one other horse-interaction opportunity such as vaulting or horseback games," she explained. "There are also hands-on horse care activities such as bathing, clipping, braiding or learning the proper ways to wrap legs or blanket a horse. There are also other games and crafts. All activities are carefully monitored by experienced staff members. We're into safety, safety, safety."
Children should be dressed appropriately in long pants and sturdy closed shoes. Riding helmets are provided.
"It's all about giving kids an opportunity to get involved in a fun and healthy activity," Cooper said. "This kind of experience helps children grow in all sorts of ways and teaches a variety of life skills. Plus, it's a lot of fun. So far it's been quite successful. The parents are happy with the program, and the kids want to come back as often as they can."
One of those kids is 7-year-old Madison Zimmerman, who recently attended a Barn Dayz.
"I liked it a lot," Madison said. "I liked riding the horses and the activities. I learned how to saddle and bridle and brush a horse. I'd like to go back again."
"She absolutely loved it," said Madison's mother, Tara Zimmerman. "She had a wonderful time and can't wait to go back. It's a good value, and they do a great job. The property is well-maintained, all the horses look happy. I'd highly recommend it to others."
But wait, there's more!
Casperey is also offering a special program just for adults called Ride-N-Fit Horse Girl Yoga.
"This is something new, and we're really excited about it," Cooper said.
This combination of riding and fitness will be led by Cheryl Alker, co-producer of the video series, Muscle Language: The Language Horses Understand.
Two introductory classes will be held on Tuesday evenings, Feb. 19 and Feb. 26, from 6:45 until 8:30 p.m. Then, a six-week course will run weekly on Tuesday evenings from March 5 through April 9.
And no, you don't have to know anything about horses or have any riding experience.
Each session starts with 30 to 45 minutes of mat work, stretching and strengthening, including different movements, and may include yoga and pilates. After a short break, it's on to the riding part.
"We use the horse as a four-legged yoga ball," Cooper explained. "Riders can choose to ride bareback or with a saddle, however they're most comfortable. We spend another 30 minutes on the horses doing stretching, strengthening, flexibility and balancing exercises. The horses all love it, and it's also a nice way for adults to start getting involved with horses without having to take a traditional riding lesson."
At the end of the program, everyone's invited along on a field trip to a park for yoga and trail riding, a picnic lunch and glam shots with the horses.
Classes are limited to no more than 10 participants. The two introductory sessions cost $25 each, and the whole six-week series costs $249. Participants should wear loose, comfortable clothing and sturdy closed shoes.
For more information, call (561) 792-4990, or visit www.caspereystables.com.