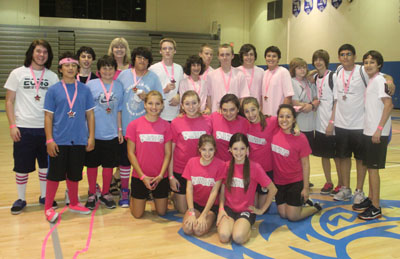 Students who want to dodge, duck, dip and dive while raising money for a good cause are invited to participate in the annual thinkPINKkids Wellington Dodgeball Tournament set for Friday, Feb. 15 at Wellington High School.
The event, a fundraiser for breast cancer programs, is open to middle school and high school students.
"It's going to be a lot of fun," TPK parent coordinator Janet Rosenthal told the Town-Crier Wednesday. "I think it brings kids back to their childhood. Everyone played dodgeball in school growing up."
The event is one of the most popular each year, and students from across Palm Beach County are invited to form a team with six to eight members. Teams must sign up by Wednesday, Feb. 13 in order to participate.
"You have to be a student in Palm Beach County," Rosenthal said. "But we accept teams from any middle or high school. You don't have to be in Wellington."
Registration for the middle school tournament begins at 5 p.m. Friday, and the games kick off at 5:30 p.m. High school team registration starts at 7 p.m., with games beginning at 7:30 p.m. All the games will be in the WHS gym.
Though some teams get competitive, Rosenthal said the tournament is a friendly competition that brings students back each year.
"You don't have to be an athlete to participate. This is an event for students to come out and have fun with their friends," she said. "The teams can be all-male, all-female or coed. The students can create their own team name and a fun uniform. The students really get into it and love designing their outfits."
The cost to compete is $10 per person, and all money goes to the Scripps Research Institute and Your Bosom Buddies II.
"We also welcome spectators," Rosenthal said. "It's $3 for entry, and we'll have lots of food and drink for sale."
Each team must fill out a packet of information and have it signed by their parents. Obtain packets by e-mailing tpkwellington@comcast.net.
"Each team is guaranteed at least two matches," Rosenthal said. "The teams are randomly picked to start. The winners of each round go on, and the losing teams get to play in the consolation rounds. Each match is the best of three games."
The games are played according to official dodgeball rules with a regulation court and balls.
"If parents want to volunteer their time, we are also looking for referees," Rosenthal said.
Formed more than five years ago, thinkPINKkids Wellington is part of the national organization that encourages kids to give back to the community by raising money for breast cancer research.
"It's a student-run organization that has fun activities and events while giving back to the community," Rosenthal said. "We hope these events get our name out there and attract new members."
She also noted the organization's end-of-the-year event, "Dance Night for the Fight" on Friday, May 10. The dance party will feature a DJ, contests, entertainment and more as a way to help raise money.
For more information about the dodgeball tournament or dance night, e-mail tpkwellington@comcast.net.
ABOVE: Teams from Emerald Cove Middle School at last year's thinkPINKkids Wellington Dodgeball Tournament.