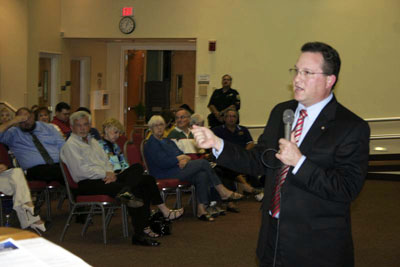 State Rep. Mark Pafford (D-District 86) held a town hall meeting Thursday, Jan. 31 at the Royal Palm Beach Cultural Center to get input from residents and inform them how to get information about the upcoming legislative session and effectively express their opinions.
District 86 covers all of Wellington, Royal Palm Beach and Loxahatchee Groves, and extends east of Florida's Turnpike into parts of West Palm Beach.
Although Pafford said he probably represented most of the approximately 100 people attending the meeting, he said it is important for citizens to be sure they are addressing correspondence to their own legislators, especially since district lines were recently redrawn. This information is available at www.myfloridahouse.com by clicking on "Representatives" at the top of the page, followed by "Find Your Representative." Citizens will then be asked to fill in their address, and the system will automatically tell them their state representative, state senator and congressman.
"Original letters are important," Pafford said. "Form letters are not so hot. The more you know on how to communicate with us, the better."
Residents who want to be active in the legislative process should try to understand the basics of how the system works and to express how particular bills will affect them, their family, their business and/or their community.
Pafford suggested that correspondence be polite, even if the writer disagrees strongly with his representative's point of view. Letters or e-mails should be brief and cover only one issue per correspondence. The issue or opinion should be at the beginning of the letter and not buried in the text.
"My point is, stay on task even when you visit with us," he said, explaining that he tries to make himself available to his constituents so that they do not have to make the trek to Tallahassee. "Usually I'm trying to make a point of reaching out to you. This is a normal thing for me to do. I try to visit your cities, your municipalities, before and after sessions. I think it's very healthy that I understand what people are thinking about."
People wanting to track a particular bill should go to www.myfloridahouse.com, click on "Legislative Tracking" and create an account. Entering a bill number will enable people to follow a particular bill. Keywords enable people to follow issues by topic. They will receive e-mails on any activity regarding the bill number or topic.
Pafford cautioned that the legislative process is very structured, and it is important to go to people who have the authority to put legislation in the appropriate committees.
Among bills he is sponsoring or co-sponsoring is the "Child Safety Devices" or booster seat bill. Pafford noted that Florida is one of few states that do not require small children to be strapped into a booster seat. "There's federal money attached to actually having a law," he said. "It's a bill that I think may actually get some traction this year."
He is also co-sponsoring the "Homelessness Bill," sponsored by State Rep. Betty Reed (D-District 61), which would give a driver-license applicant the opportunity to check a box to donate $1 to a fund for the homeless. It was introduced last year but did not pass. Pafford said he is on two of the three committees the bill must go through.
"I co-sponsor a lot of bills because there are many good bills out there," he said. "I generally [co-]sponsor bills whose sponsor I know personally, [because] I know that there is a very good chance that the bill is not going to turn into something by the time it hits the floor that would make it embarrassing to have my name on it."
Pafford also pointed out that House bills must have an accompanying bill in the Senate. "Your bill in the House doesn't have a chance of passing if it doesn't have a Senate sponsor," he said.
About 3,000 bills are introduced in each session. Of those, 250 or 300 bills make it to the floor, where he estimated that 95 percent pass. "It's a heck of a process," he said. "The amount of information that we receive is just overwhelming."
Pafford is sponsoring an urban development and infill assistance bill that would put language back into the Florida statutes that was recently deleted.
"The legislature works in funny ways," he said. "Last year, we got rid of language in the statutes that basically contained the language that I'm filing to put back in the statutes."
The language creates a grant program that, if funded, would be very useful, Pafford said. "The one time it was funded was in 2001, and houses were built, community projects were built, some in West Palm Beach. This was a $2.5 million grant program that was funded one time," he said.
Pafford added that a large amount of federal, local and private dollars were leveraged to help put the projects in place and that many of the restored areas had been blighted.
"Because it had not been funded last year, they pulled it out of the statutes," he said. "They said it was obsolete, which really bothered me, so this year I filed to put it back."
Pafford is also sponsoring a bill that would create a registry for domestic partnerships.
"It provides people in other types of relationships an ability to visit a loved one in a hospital that they may not have otherwise," he said. "Many people think this is an issue that involves gay couples. If you think about it, there's a lot of people who grow older. They don't want to lose benefits by getting married. This involves a lot of people, so we're going to try again."
ABOVE: State Rep. Mark Pafford talks to residents at a Jan. 31 town hall meeting in Royal Palm Beach.