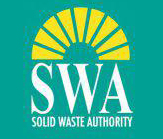 The Palm Beach County Commission, sitting as the Solid Waste Authority Board of Governors, approved franchise awards for solid waste and recycling pickup to five haulers Feb. 13 despite Acreage residents' complaints that their rates were too high.
The new bids, which reduced the service areas from 12 to five, represented an overall cost reduction of 23 percent, according to SWA calculations. The concern for some Acreage residents was that the overall lower rates were not distributed evenly across the county.
Most of The Acreage is in District 2, which will be serviced by Advanced Disposal Services. Its bid of $10.97 million was accepted.
Residents of the former service areas for The Acreage — areas 8 east and west — were paying $32 a month but will see rates drop to $12.49 a month and $13.43 a month, respectively, according to the SWA's chief financial officer, Charles Maccarrone. "It's a huge reduction," Maccarrone told the Town-Crier Wednesday.
A small portion of The Acreage, north of Northlake Blvd. and east of Coconut Blvd., will be in area 1, which will be serviced by Waste Management Inc. of Florida, which was awarded a contract of $11 million. Customers in that area will pay $12.49 a month, which is down from $25.17 a month when it was serviced by Republic Services.
Maccarrone said the new service areas incorporate portions of sparsely populated areas on dirt roads with more populated areas. Areas 1 and 2, which service The Acreage, also extend all the way through populated areas to the coast.
"There is a difference out there, but by combining those areas, that's what helped bring those rates down, because the hauler wasn't only picking up those areas that have a lot of dirt roads and they're spread apart," Maccarrone said. "He gets the benefit of much simpler and more economical areas to pick up."
The SWA actually had more bidders than service areas, Maccarrone said. "In the past, we had six bidders and 11 service areas, so they all knew they were getting something. This time there was a good chance that someone was getting nothing, and that's exactly what happened, so they had to bid aggressively."
Waste Pro, the current hauler for The Acreage, was left out of the bid process because of alleged small business enterprise infractions, which the company has challenged in court.
During public input at the meeting, Indian Trail Improvement District Supervisor Gary Dunkley questioned the rates being charged in The Acreage. "Approximately two years ago, I complained that we were the second-highest paying customers for solid waste," he said. "I see that you have closed your zones down from 11 zones to five zones in terms of saving money."
Dunkley said he will be paying less but will still be paying more than people in other zones. "I don't understand why," he said. "Our streets have an average of a dozen homes, compared to the city streets, which have many more homes. I really don't see how you justify charging us more than the rest of the zones."
SWA Executive Director Mark Hammond said a lot of it has to do with the type of residences. "A lot of you may recall that about six months or so ago, a truck actually overturned out there," Hammond said. "A lot of the roads are dirt, not all, but there's a lot of distance between houses. Some of the roads are in poor shape, and it just costs more to service that area than a more traditional urban area."
Palm Beach County Mayor Steven Abrams pointed out that the bids submitted were blind, competitive bids.
"All the bidders had the opportunity to bid on each of these zones, and the bidder that is recommended to be awarded put in their lowest bid on their capability of picking up in that zone," Abrams said. "It still was competitively bid, and you are getting the lowest and you are achieving savings, but due to some of the characteristics of the community, it still may be higher than a more urban pickup route."
Acreage resident Alex Larson said the rates have always been high in The Acreage. "It should be fair and equitable," she said. "We should all be paying the same rate all throughout the county. There are counties in this state where everybody pays $243. Everybody in the county pays the same amount. Why are the poorest areas getting hit the hardest? Belle Glade pays top dollar, we're right behind them, and then down in Boca Raton you pay $104? It doesn't make sense."
Acreage resident Patricia Curry said she was glad to see that rates in The Acreage are going to be lower than in the past but noted that they still were higher than most everyone else is paying.
"I don't see why you can't just combine the assessments and charge everyone the same instead of punishing people for living in particular zones," Curry said. "My trash is no different than everybody else's."
Commissioner Shelley Vana made a motion to adopt the new rates, which carried 7-0.