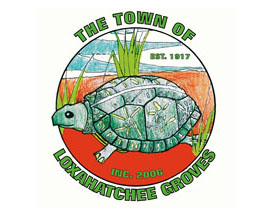 The Town of Loxahatchee Groves conducted a workshop Thursday, Feb. 14 on the future of commercial development along Southern Blvd.
Last June, the Loxahatchee Groves Town Council enacted a moratorium on comprehensive land-use plan amendments that were not already in place and in August directed the town's management company to draft amendments that would correct issues in the comp plan related to development, explained Town Manager Mark Kutney, who led the workshop.
The workshop was the second of two. One took place in December, focusing on development on Okeechobee Blvd. "This is the second meeting, and this one is focused on Southern Blvd., although we want to hear about Okeechobee Blvd. as well," Kutney said.
Town planning consultant Jim Fleischmann said the purpose of the workshop was to discuss land-use activities along the Southern Blvd. corridor. Town staff is in the process of writing comp plan amendments and wants recommendations from property owners along the corridor to incorporate in the plan.
The current Southern Blvd. corridor includes a mix of residential, agricultural and commercial uses. Fleischmann said some commercial spaces along the corridor do not carry commercial land-use designations. "That's something we can take care of during this process," he said.
The town's Southern Blvd. corridor extends north to Collecting Canal from west of A Road to east of F Road. Agriculture is far and away the most dominant use in the corridor, with 396 acres out of 695 total acres.
The predominant equestrian area in the corridor is on some fairly large parcels just north of Loxahatchee Groves Park. Nurseries in the corridor are on the west side of D and F roads.
Single-family residential is the second-highest use, with 59 residential parcels and a total of 61 dwelling units.
The zoning district that encompasses most of the corridor is agricultural residential, Fleischmann said. The minimum lot size for agricultural residential is 5 acres, but most of the residential lots are less than 5 acres, with 51 percent of the residential parcels on less than a half-acre.
"You can see that most of the residential parcels are inconsistent with the current agricultural residential zoning districts," Fleischmann said.
In addition to the residential units on residential-zoned parcels, there are 21 residential units on parcels designated agricultural. "There is a grand total of 82 residential units located within the corridor," Fleischmann said. "They are concentrated primarily between C and E roads. That's what I would call the residential core area of the corridor."
From the west, commercial parcels begin with a 20-acre area just west of A Road, which is a paintball operation that received a commercial recreation designation before incorporation.
"It's a commercial use, but it does not have a commercial land-use designation," Fleischmann said, explaining that the town will not take away rights the owner had been approved for previously, but the owner would have to come to the town for future approvals.
The parcel at the northwest corner of B Road and Southern Blvd. is the 75-acre Palm Beach State College site and the 23-acre commercially zoned Loxahatchee Commons, which is slated for about 95,000 square feet of commercial and office development.
Moving to the east, the 75-acre Solar Sportsystems property on the northeast corner of Southern Blvd. and B Road has a mixed-use designation including designations of commercial-low, commercial-low office and institutional. Fleischmann said the developer is limited to 103,000 square feet of retail, 44,000 square feet of office space and a 128-bed assisted living facility. A 300-foot buffer is also mandated along the south side of Collecting Canal Road.
Moving farther east, three parcels before the Shell gas station are all vacant. The next parcel east of the Shell station is also vacant. The next parcel to the east is the Loxahatchee AG Supermarket, followed by the U.S. Post Office, Palms West Plaza, and a vacant lot where truck rentals are stored. Moving farther east across D Road is an animal hospital, then a vacant parcel that has an approval for 37,408 square feet of banking and professional office uses.
Moving to the east side of Loxahatchee Groves Park is the 26,000-square-foot Grove Medical Plaza, currently under construction. The next parcel is the Farmer's Daughter produce market, followed by Everglades Farm Equipment east of F Road.
Fleischmann noted that Southern Blvd. is designated in the state's strategic intermodal system and a roadway deemed to be critical to Florida's economic future and critical in the event of an emergency.
There are currently two traffic lights, at B and F roads, and seven median cuts. The current traffic counts between B and F roads are about 34,000 per day, and from F Road to Forest Hill Blvd., about 43,000 trips per day.
"FDOT has plans to expand the roadway from four to six lanes from Lion Country Safari east to Forest Hill Blvd. in the near future," Fleischmann said. "The project development report was completed in March 2012. The design state, including location of drainage pond locations, is currently funded and is scheduled for completion in September 2015."
Construction is scheduled to commence in 2016 but has not been entirely funded.
Fleischmann pointed out that FDOT has identified a series of potential drainage ponds on the north side of Southern Blvd. "They haven't determined specifically where these drainage ponds are going to be located, but that decision is going to be made relatively soon, and we'll be part of the right-of-way acquisition process," he said. "It could certainly have some impact on future development along the corridor."
Resident Elise Ryan noted that FDOT had been asked to locate the retention ponds nearer to Collecting Canal Road so the town could use them for water storage and also for recreational purposes.
Fleischman said he has a series of maps that identify possible retention areas. "It was pretty obvious to me that they were looking to locate them north," he said. "If we can combine them to also enhance our water supply and some of our wetland areas, that would be a preferred alternative."